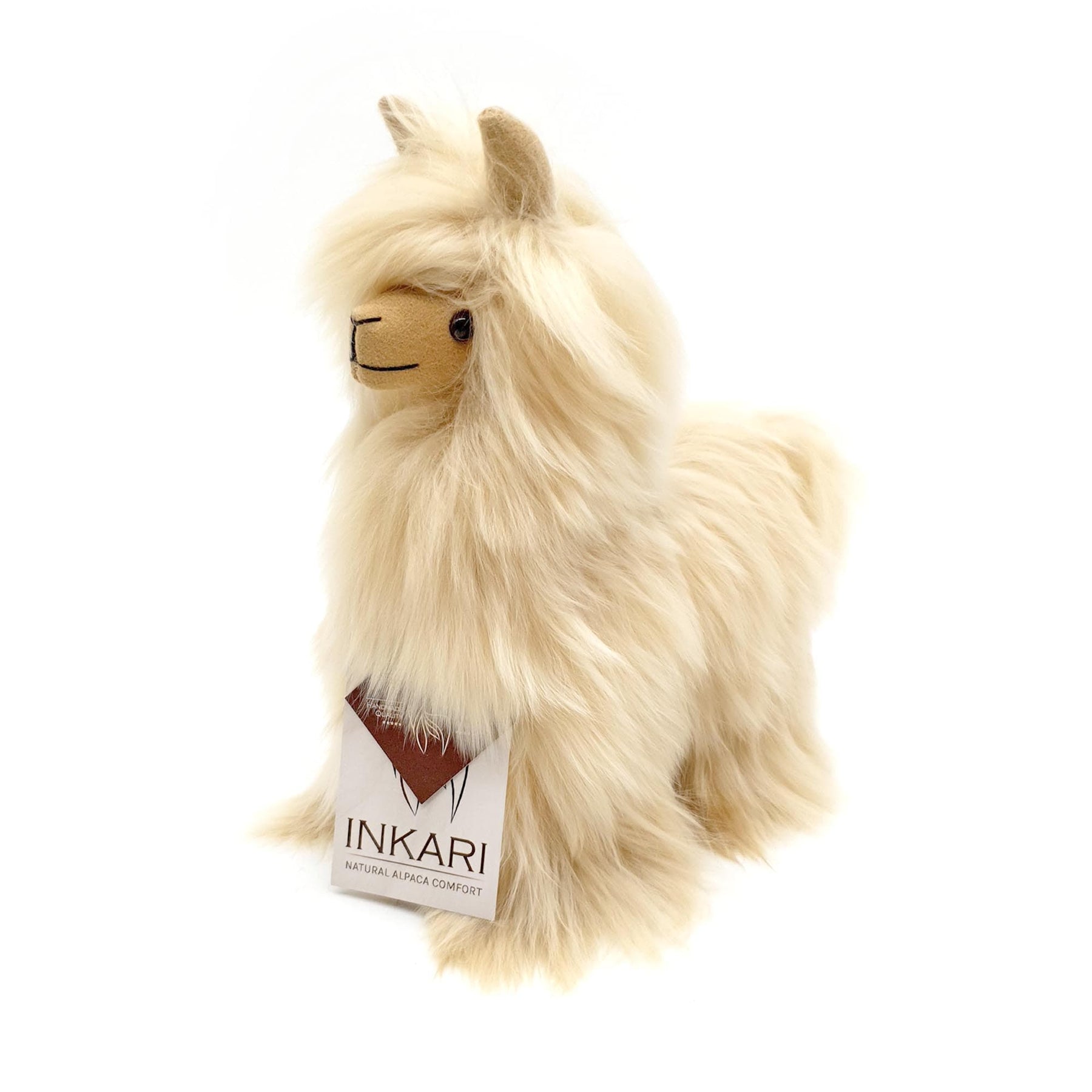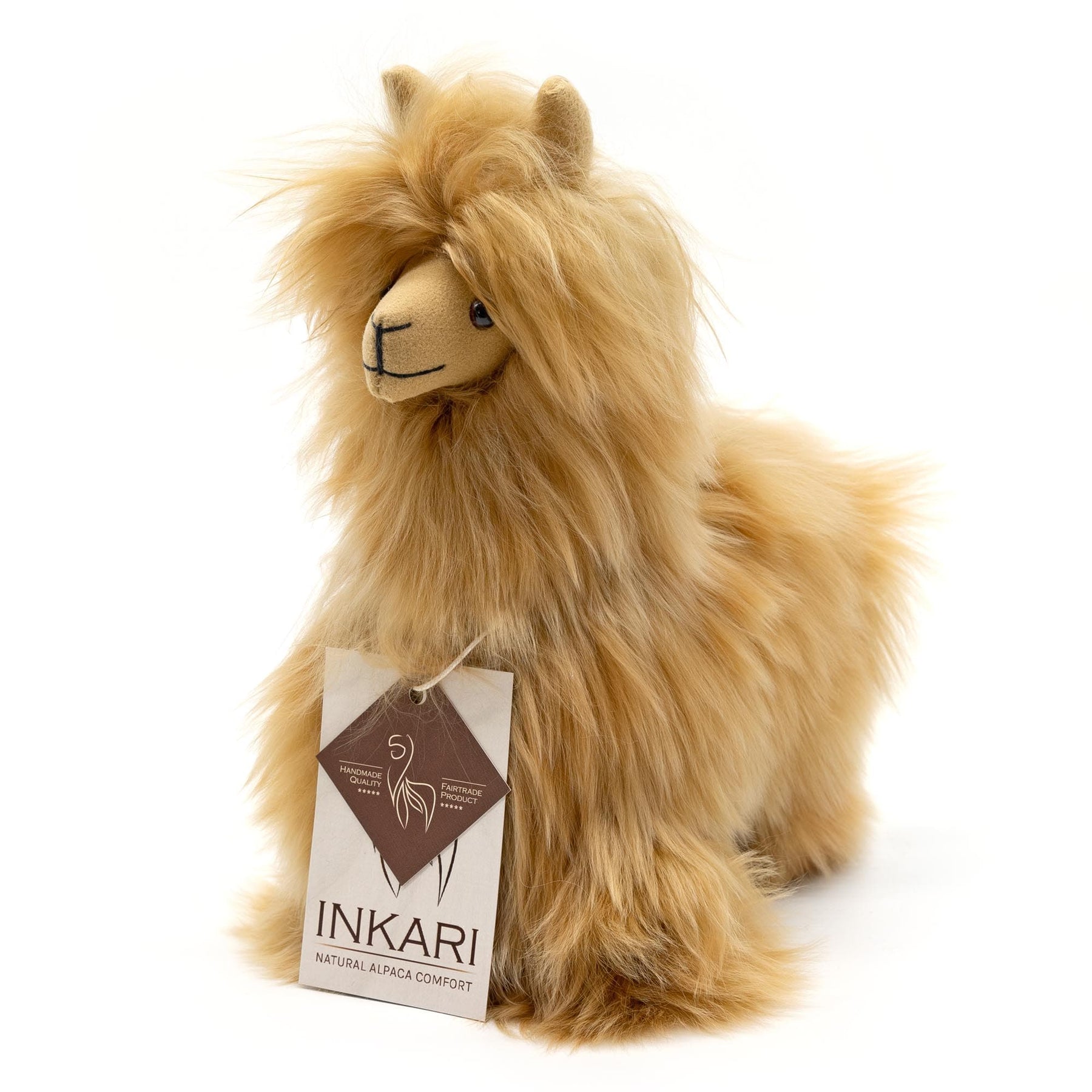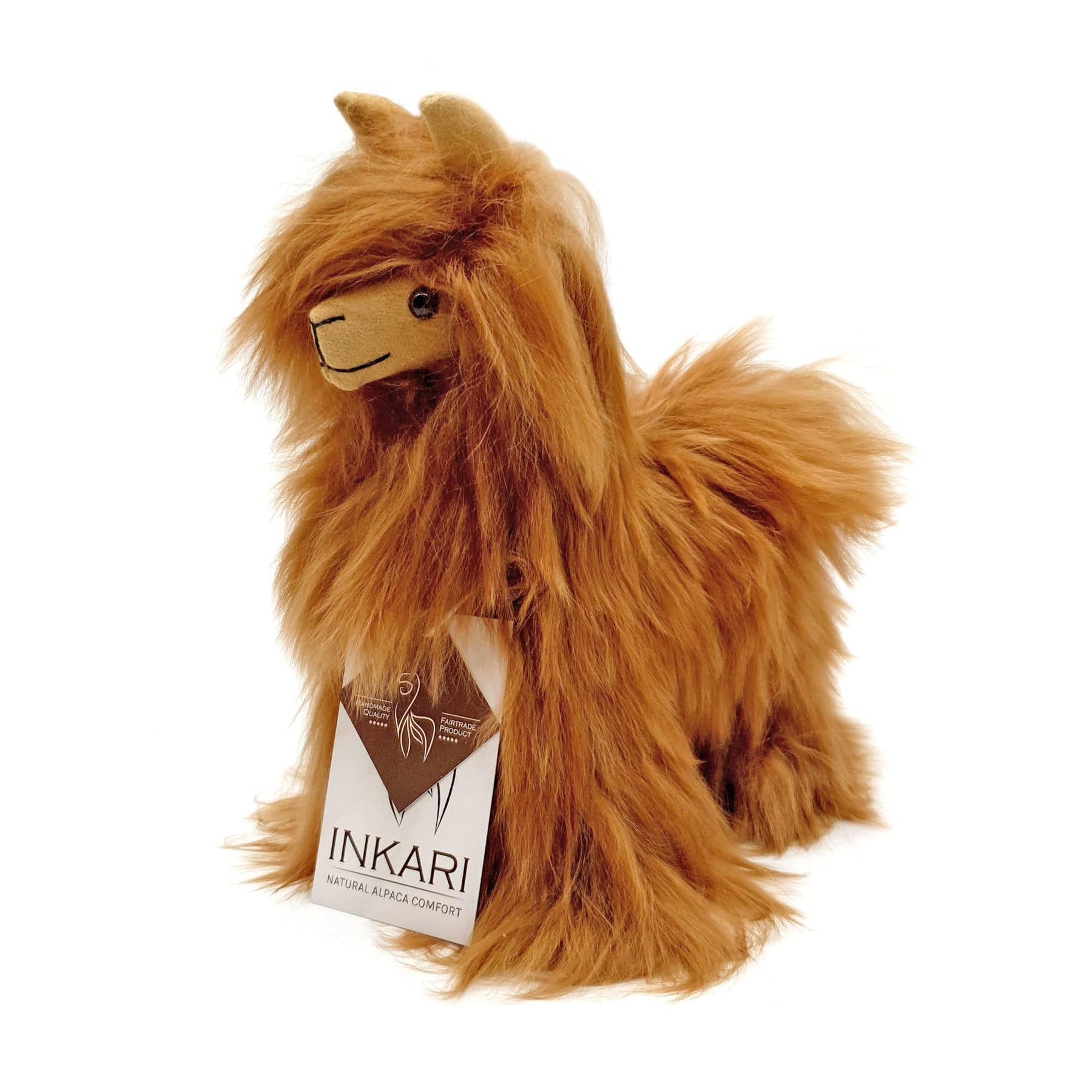 Suri Naturals - Alpaca Stuffed Animal
THE SILKIEST OF SURI ALPACAS🦙
Do you ever get one of those days where everything seems just... too much? Wouldn't you wish to have something that could suck away this overwhelming feeling? 👇🏼

Here's your new Suri Alpaca toy!

Imagine having something as soft as your pillow, as cute as a puppy, and super eco-friendly that you can carry around wherever you want!

Suri alpaca fleece is unbelievably soft and silky! Literally softer than you will ever imagine.

Our Alpacas are cuddly and squishy creatures with a fluffy texture that makes them perfect for stress relief and relaxation.

Here is how it works:

🔥 Shake them to release all the fluffiness

💪 Squeeze them

🤗 Hug them

❤️ Love them!

💯 Collect them all!
Their softness and uniqueness will blow you away as each alpaca is handmade, fairtrade, and eco-friendly!

Alpacas are happy animals. Their fleece is one of the softest and most sustainable fabrics on earth.
We treasure this very rare and special fabric and we are planning on using it to make more squishy history.

Squeeze it, hug it, love it!
Join the alpaca family and let's make the world a fluffier place 🦙🦙🦙
Silky smooth floof
I love how soft she is! I can endlessly fidget with her hair, both because it's so soft but also because styling it is just so much fun. She's got such a lovely golden hue with a hint of copper here and there, absolutely gorgeous
That is so lovely, Irina! Have fun styling and cuddling! =) Thank you for the review!
Small Gold Suri
This was my first suri alpaca, and I knew right away it wouldn't be my last! The fluff is SO silky soft and light as a feather! I love how the fluff hides the eyes for a funny expression. I need to collect every color now 😃
Thank you, Julie! How awesome that you will collect all suri colors after this first one!
Did not receive item so can't comment on quality
Leaving 'neutral' rating so as not to be harsh with a company I've really enjoyed. But wanted to make the point--since you keep asking--that while the product is great (from previous orders), dealing with the Canadian postal system rather than more reliable carriers is not. I ordered this in the last week of November. This is January 3rd, and nothing. I also did contact customer service and heard back on Dec 23rd that you were investigating, but still no word from your company on the status.
Hi PJ,
I'm sorry about the big delay with the Canada post. I understand it's really frustrating. But luckily you received the order by now, as we've had contact through customer service once PostNL came back to me. I really hope you enjoy your order and we are busy checking for other shipment options in/to Canada, so hopefully, the next time won't be such a bumpy ride! Thank you for your honest review!
Amazing products and amazing customer service
I love my inkari alpacas, they are so soft and beautiful to look at. I recently ordered a suri alpaca and I cannot believe how soft and light the fur is. It is out of this world. I thought the regular alpacas were soft (and they are), but this is a whole other level.
I would also like to thank Vanessa for helping out with an order glitch which occurred. The customer service I received was unlike anything I've come across recently. 20/10!
Thanks for your amazing review Tiarne! I'm glad that you like the Suris and that your order glitch was resolved!
If you ever need any help picking new Suris, let me know!
Silky Soft
I bought this mini suri for my mother-in-law and had trouble handing him over! His hair is soft like silk and looks like he just rolled out of bed. Love him!
Hi Katelyn! Thanks for your wonderfull review and I understand you had trouble handing him over! If you ever need any assistance picking your own alpacas, let me know!
Frequently Asked Questions
Shipping
Yes, we ship all over the world! Shipping costs are applied based on your specific shipping destination and are added during the checkout.
Depending on where you're from, shipping time may vary. On average, orders from the EU will take 5-7 business days to arrive. Overseas deliveries can take anywhere from 7-16 days. Delivery details will be provided in your confirmation email, but estimates can be affected by local customs.
Use the tracking portal provided in your shipping confirmation email or use 17track for the most up-to-date information on the location of your parcel.
Limited Editions & Restocks
Restocks occur every 2-3 months. Get in touch with Support if you have special requests or join the VIP Community to receive the most up-to-date information!
A Limited Edition is a never-seen-before alpaca toy that resembles an exotic animal, delicious dessert or vibrant color. Only available once every few months with a limited amount of stock available, these Limited Editions are true collector's items.
VIP Members
Write content to help your customers to better understand your products or policies.
Write content to help your customers to better understand your products or policies.