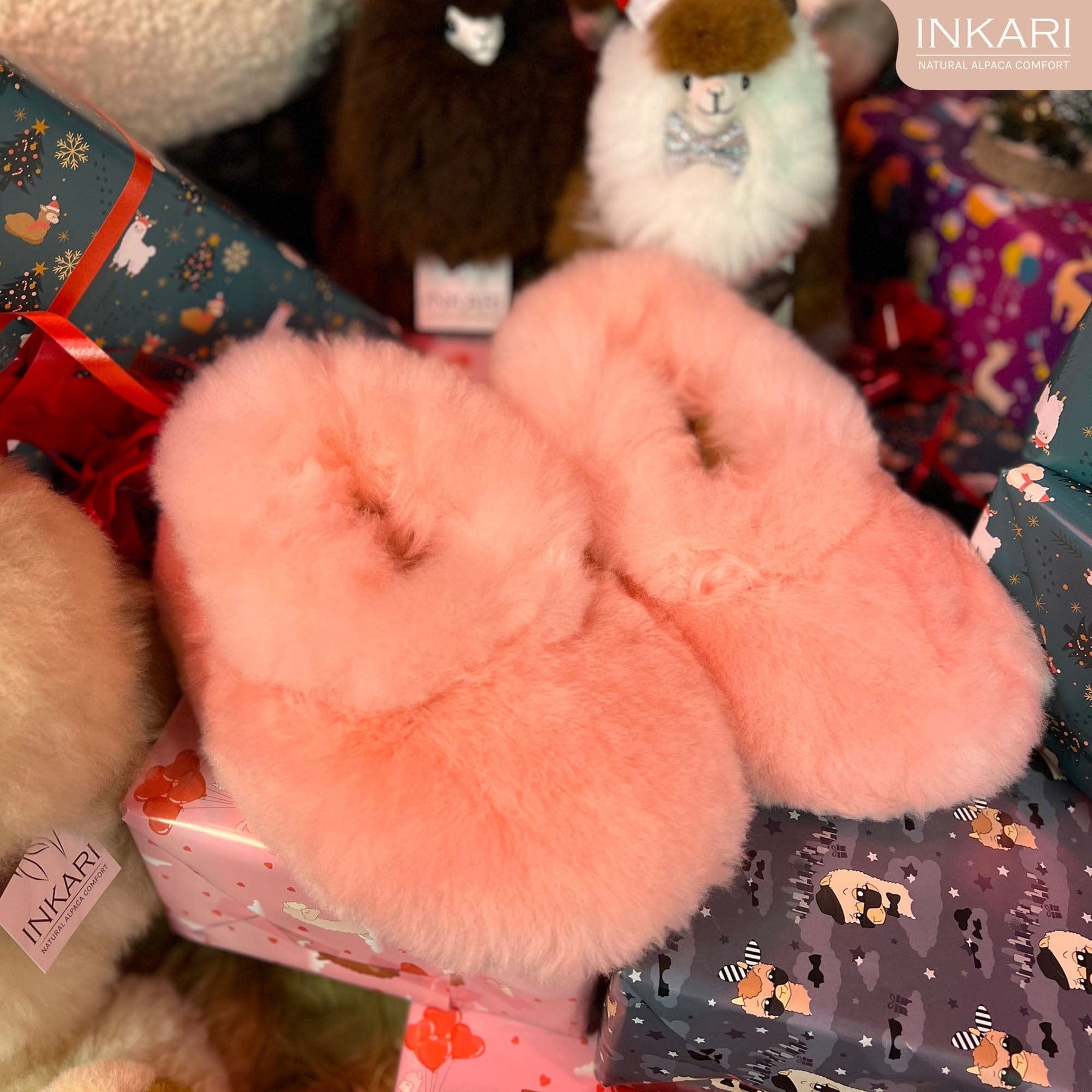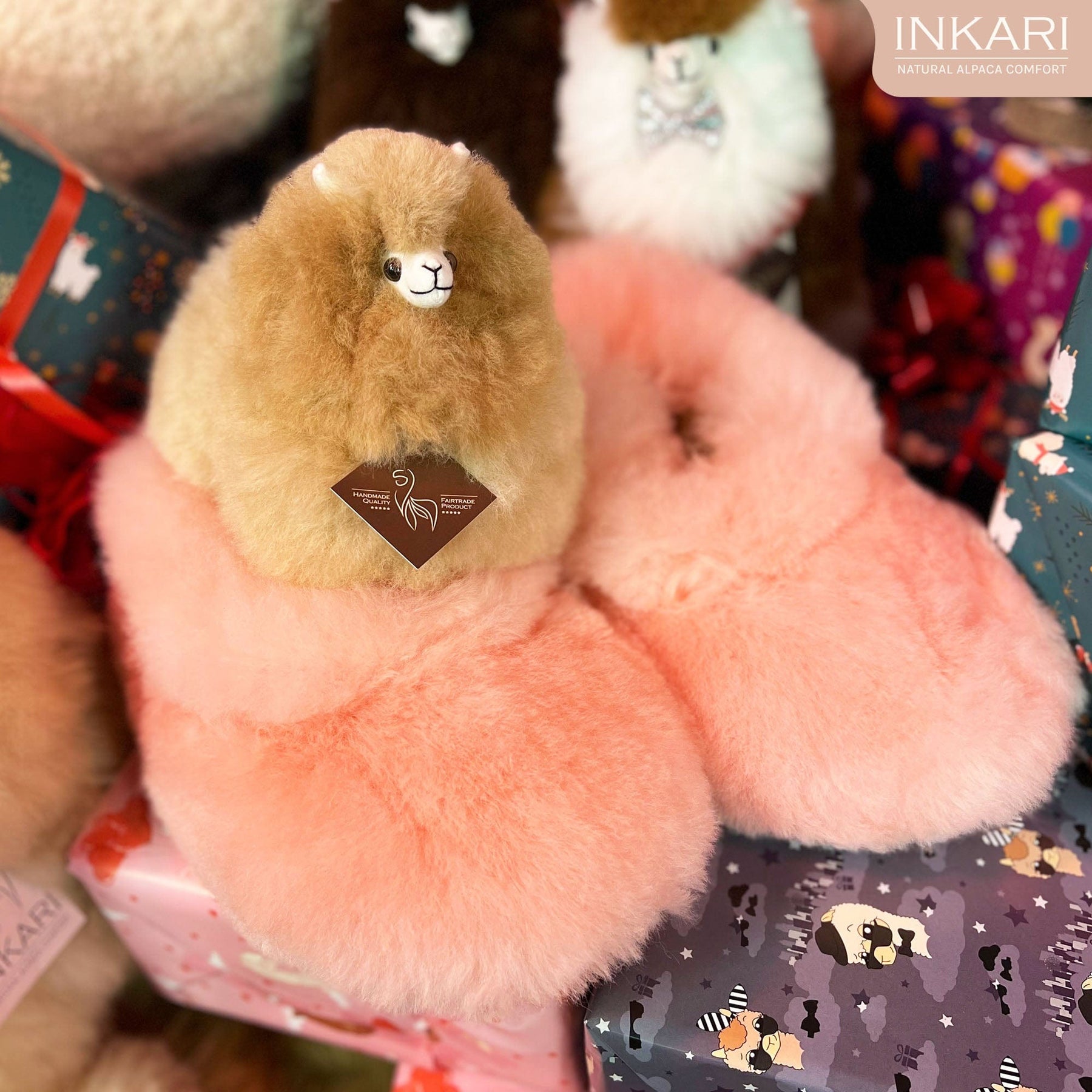 Alpaca House Slippers - Cotton Candy

NEVER HAVE COLD FEET AGAIN

Suave' Alpaca Slippers are luxury house slippers that are both incredibly comfortable and practical! The combination of Alpaca Fleece with Merino Wool results in maximal leisure and warmth, defined by natural heat circulation to prevent excessive heat.

• House Slippers should be ordered 1 size bigger than your normal shoe size.
• Combining the best natural and durable traits from both Alpaca Wool and Merino Wool

Alpaca slippers cotton candy
The slippers were beautiful but sadly too small both length wise and also quite tight. I gave them to a very greatful friend instead. Maybe a good idea to tell customers to order a size up. I hope that size 39 eventually will be for sale because they are lovely 🩷
Hi Pernilla,
I'm sorry the slippers didn't fit. If you check out the page of the slippers and go to 'sizing and material' you can see we do recommend ordering a size bigger than your shoe size. I really hope you can have a pair that fits you perfectly soon! And what a great solution to make someone else happy with them!
Join the family!
1. Get your own official INKARI alpaca!
3. Get your VIP Welcome Gift!
4. Share with 1000s of other international alpaca fans and enjoy many VIP benefits!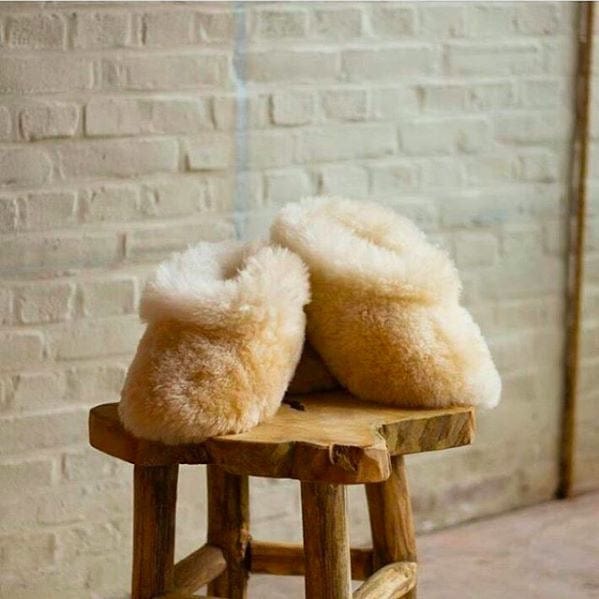 never have cold feet again
What makes alpaca fiber special?
High up in the Andes, alpacas have evolved to deal with extreme fluctuations in weather circumstances.
Day in - day out.
Alpaca fibers retain the warmth when it's cold and release the warmth when temperatures rise.

Never have cold or sweaty feet again.
Shipping
INKARI ships all over the world. Shipping costs are applied based on your specific shipping destination and are added during the checkout.
Depending on where you're from, shipping time may vary. On average, orders from the EU will take 5-7 business days to arrive.
Overseas deliveries can take anywhere from 7-16 days. Delivery details will be provided in your confirmation email, but estimates can be affected by local custom processing times.
Use the tracking portal provided in your shipping confirmation email or use 17track for the most up-to-date information on the location of your parcel.
Materials
'Baby' Alpaca Wool refers to the high quality of the wool used and does not specifically refer to the age of the alpaca.
Baby Alpaca Wool is a guarantee for premium quality and superb comfort.
Slippers fit best when purchased one size larger than your usual size.

*Example: Order size 39 (EU) when you wear 38 normally.
Merino Wool is used for the inner-lining of Alpaca Slippers due to its toughness. Combining the best practical and natural elements from Alpaca and Merino Wool results in a perfect house slipper.
VIP Members
It's super easy!
Send out a request to join the VIP Members FB Group.
Join 1000s of other alpaca fans and start sharing your own alpaca stories with them!
New to the group? A VIP Welcome Gift awaits... join and find out how you can get your own gift.
INKARI VIPs are the first to learn about new product launches, know the exact starting times of the original Limited Edition Sale, can win amazing alpaca prices through VIP Challenges and so much more.
Get your first alpaca and join the family today!