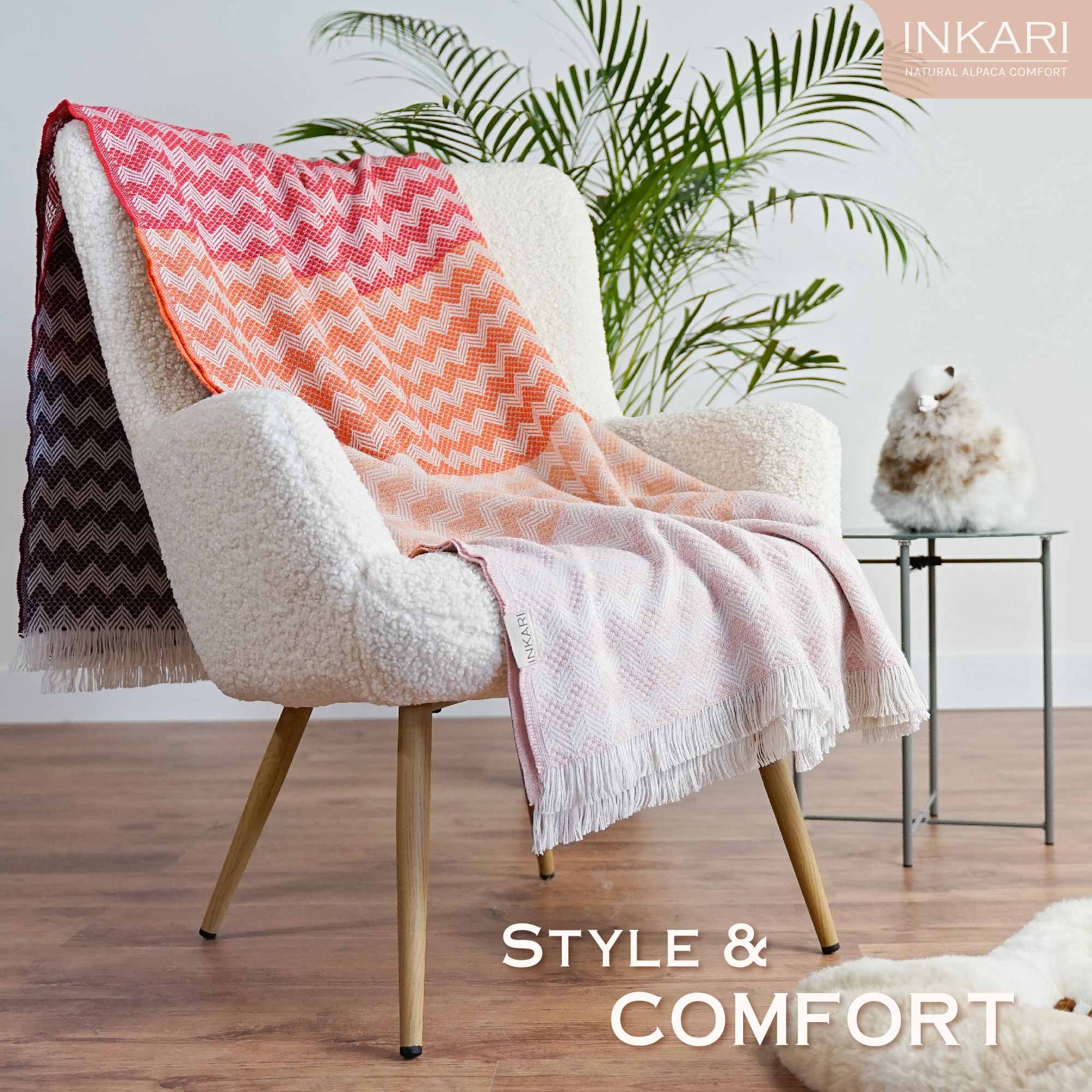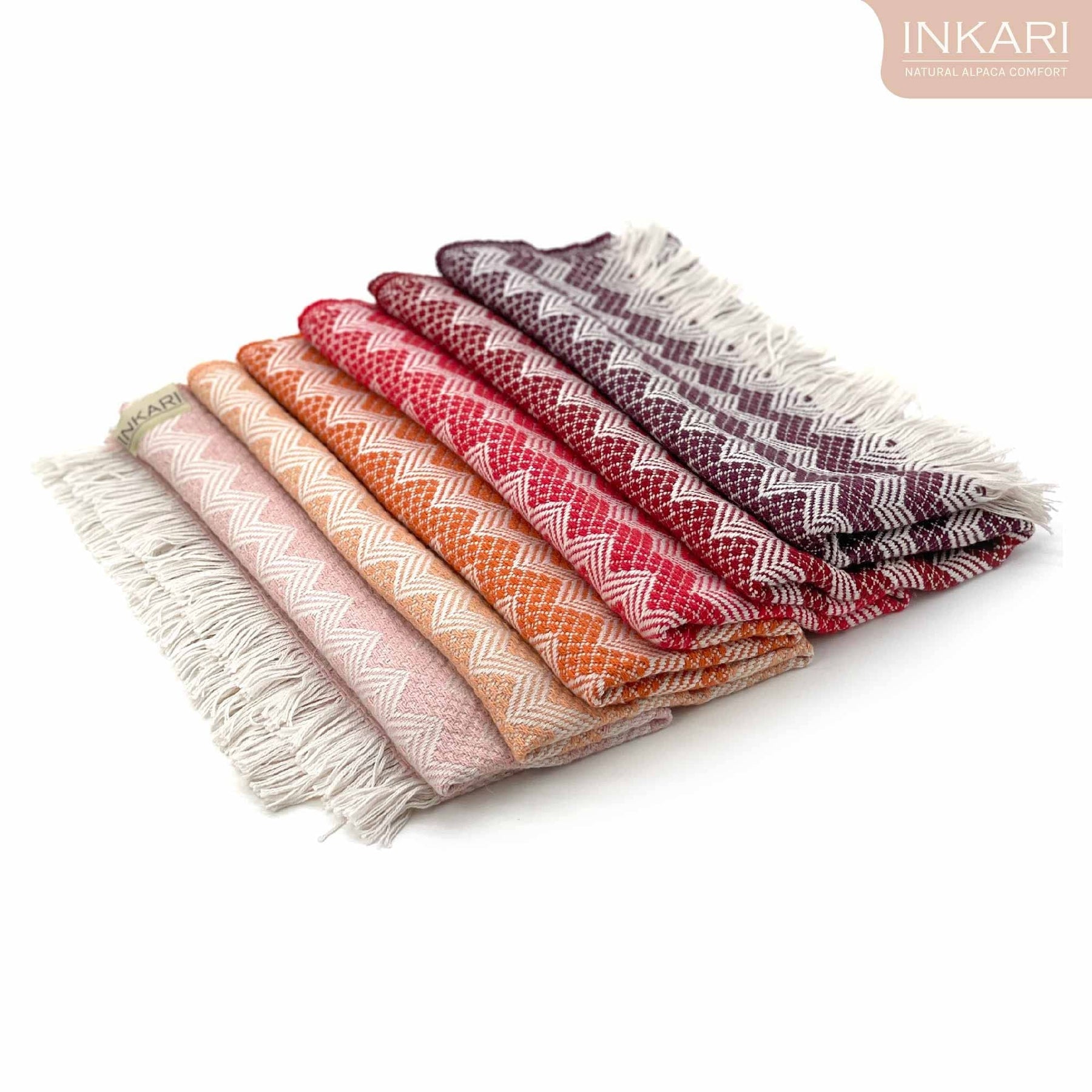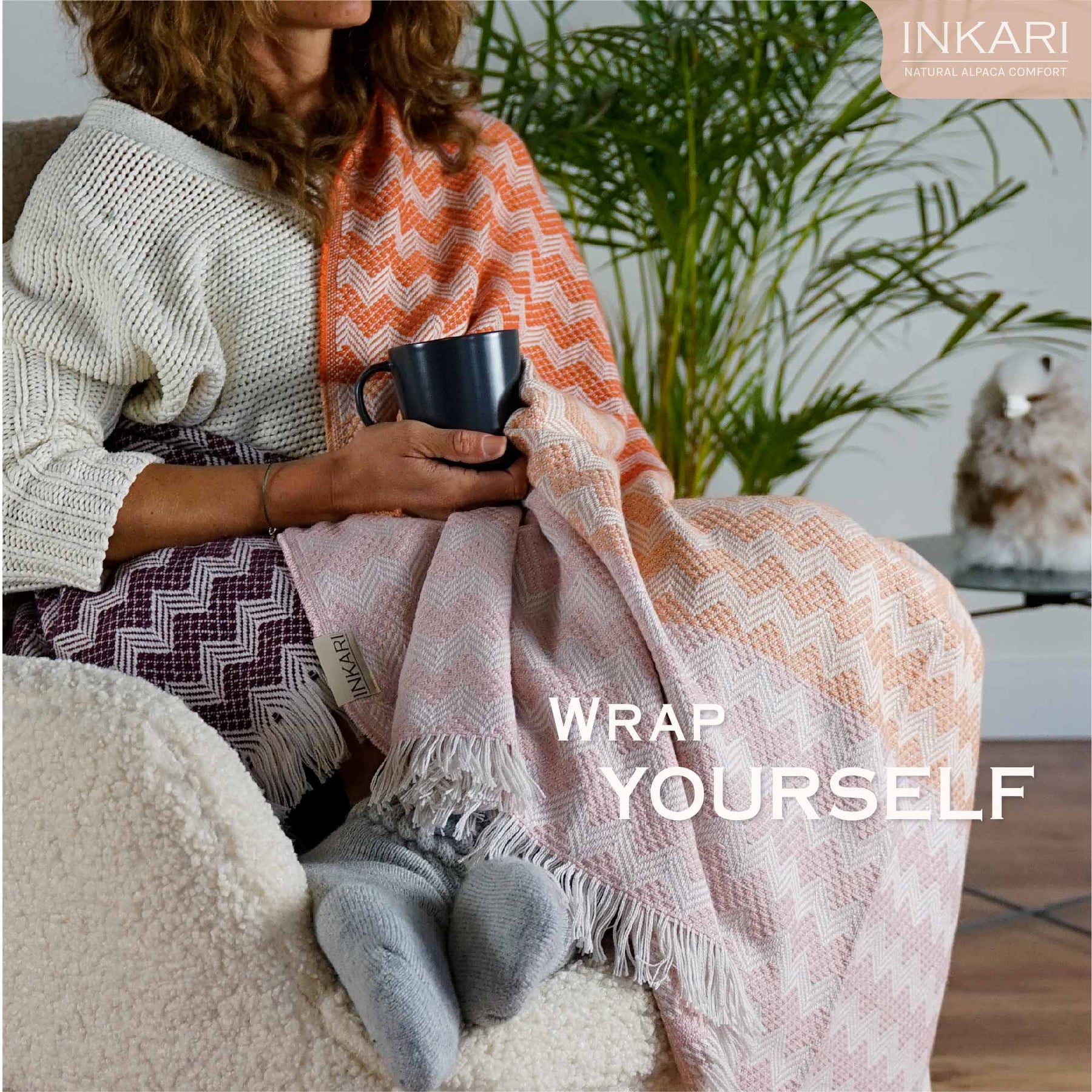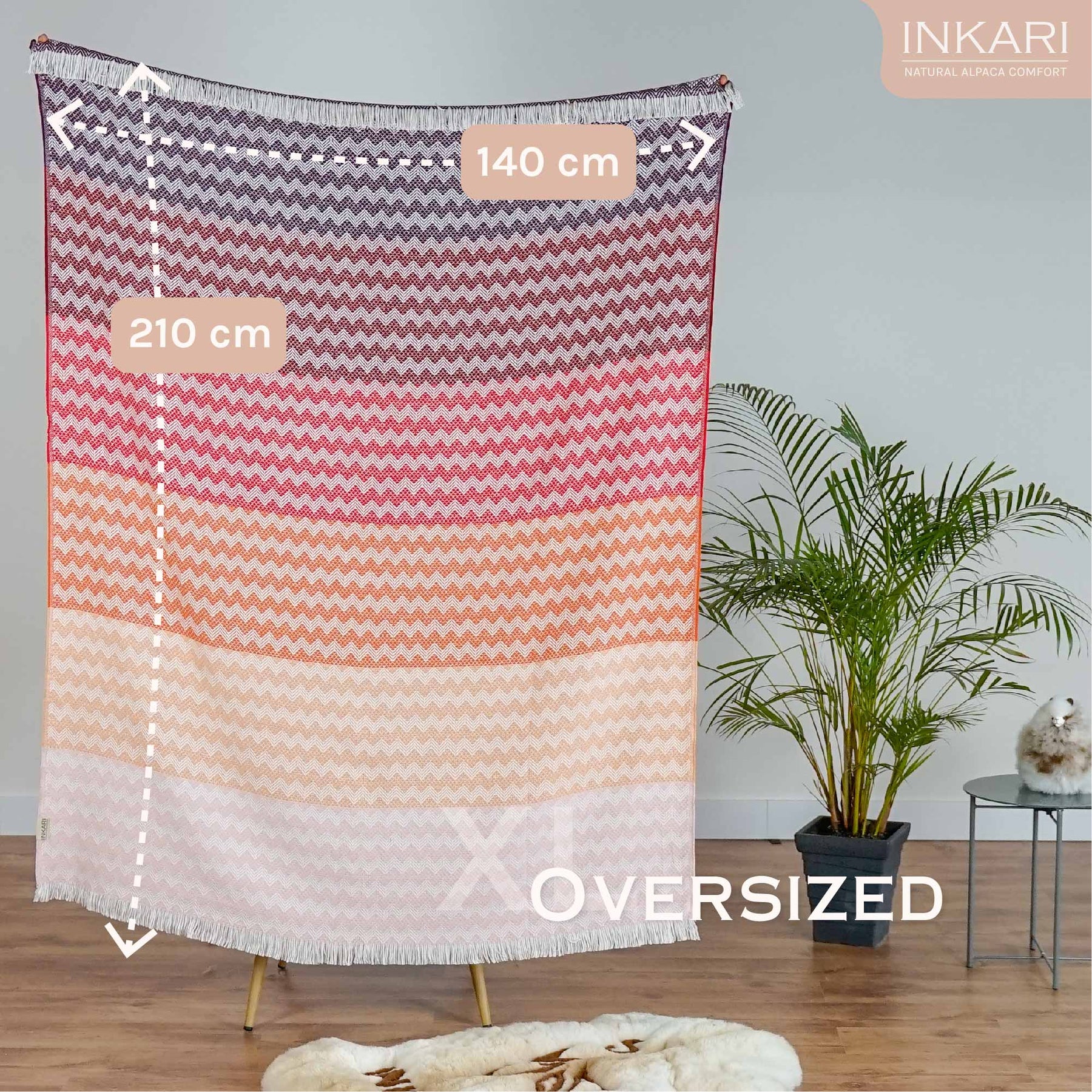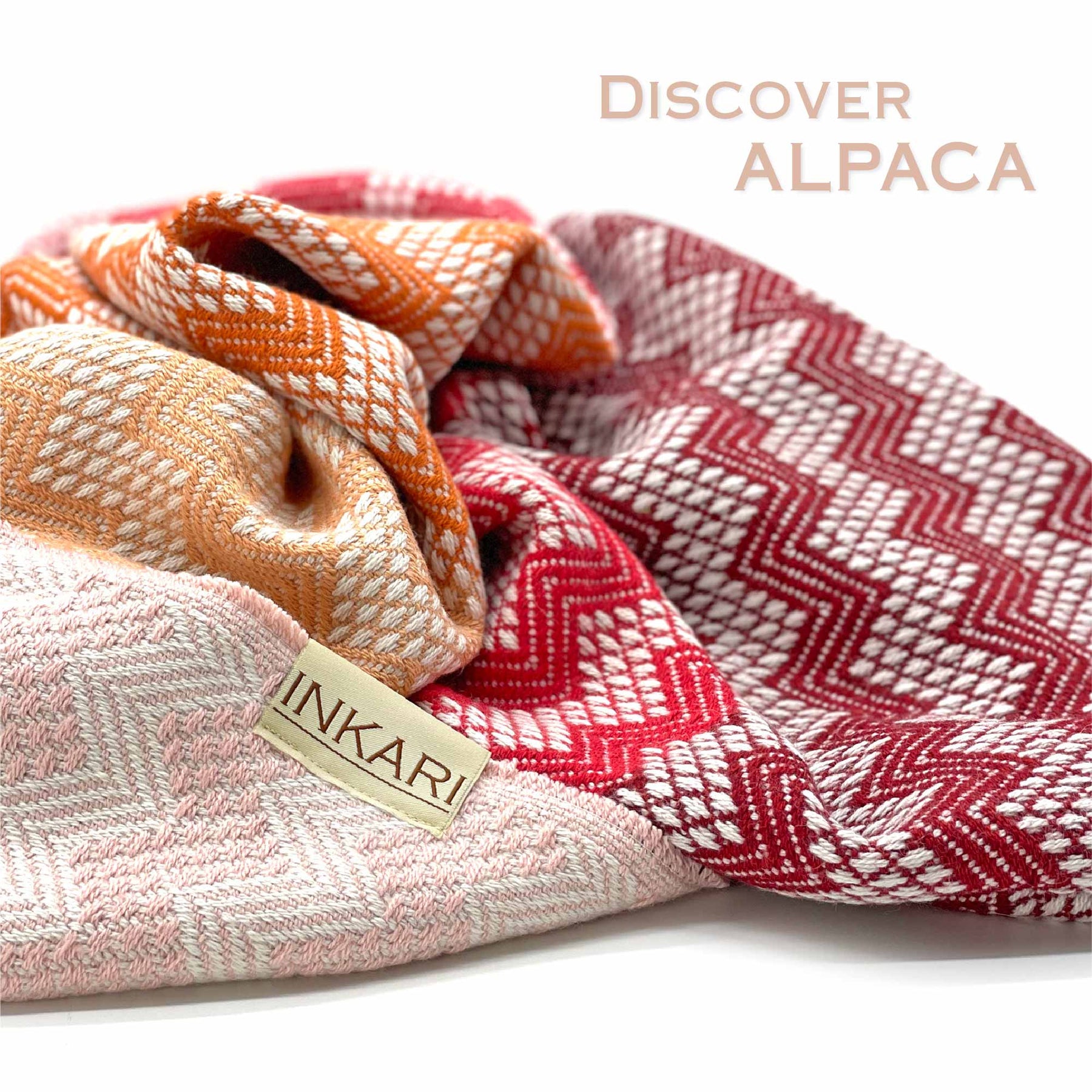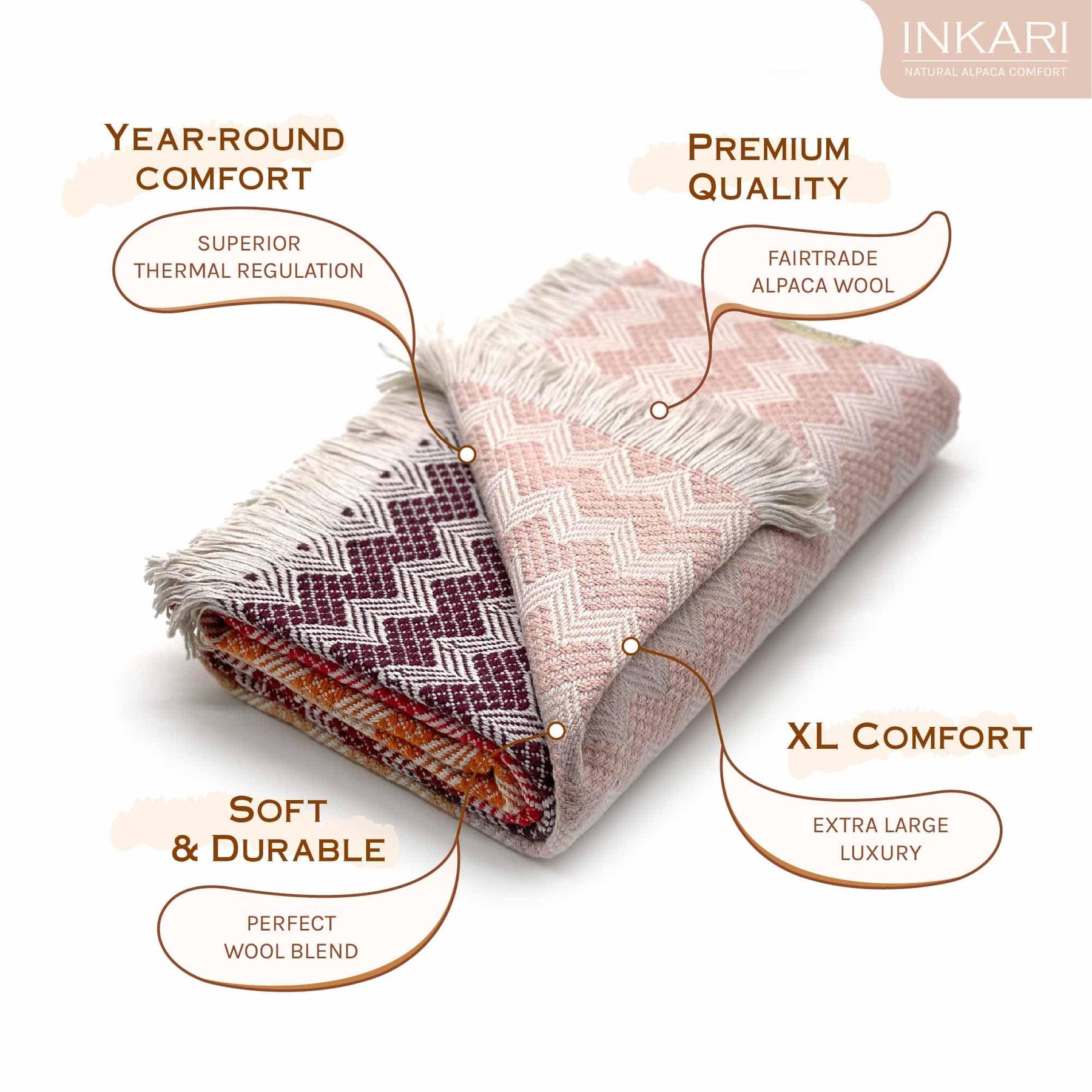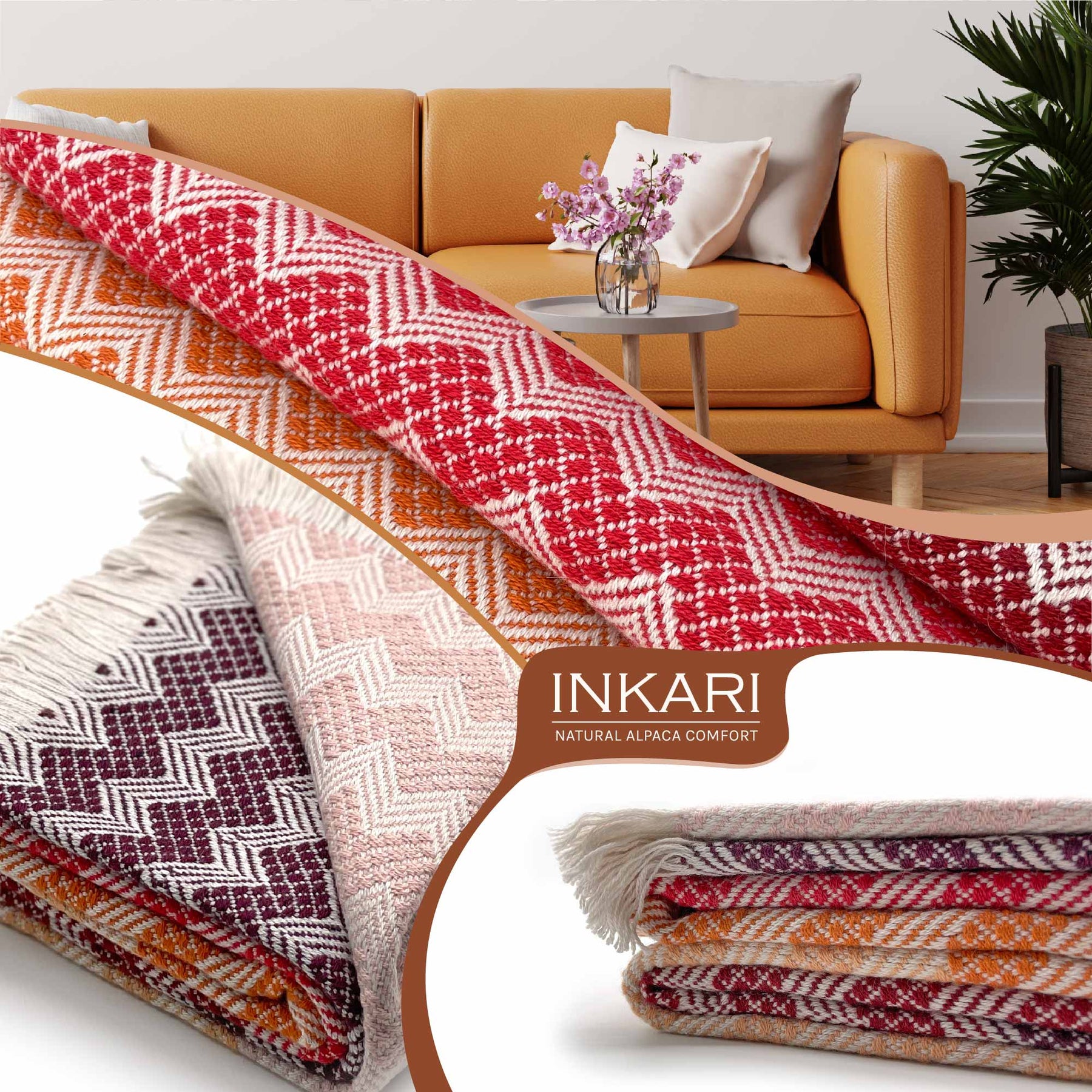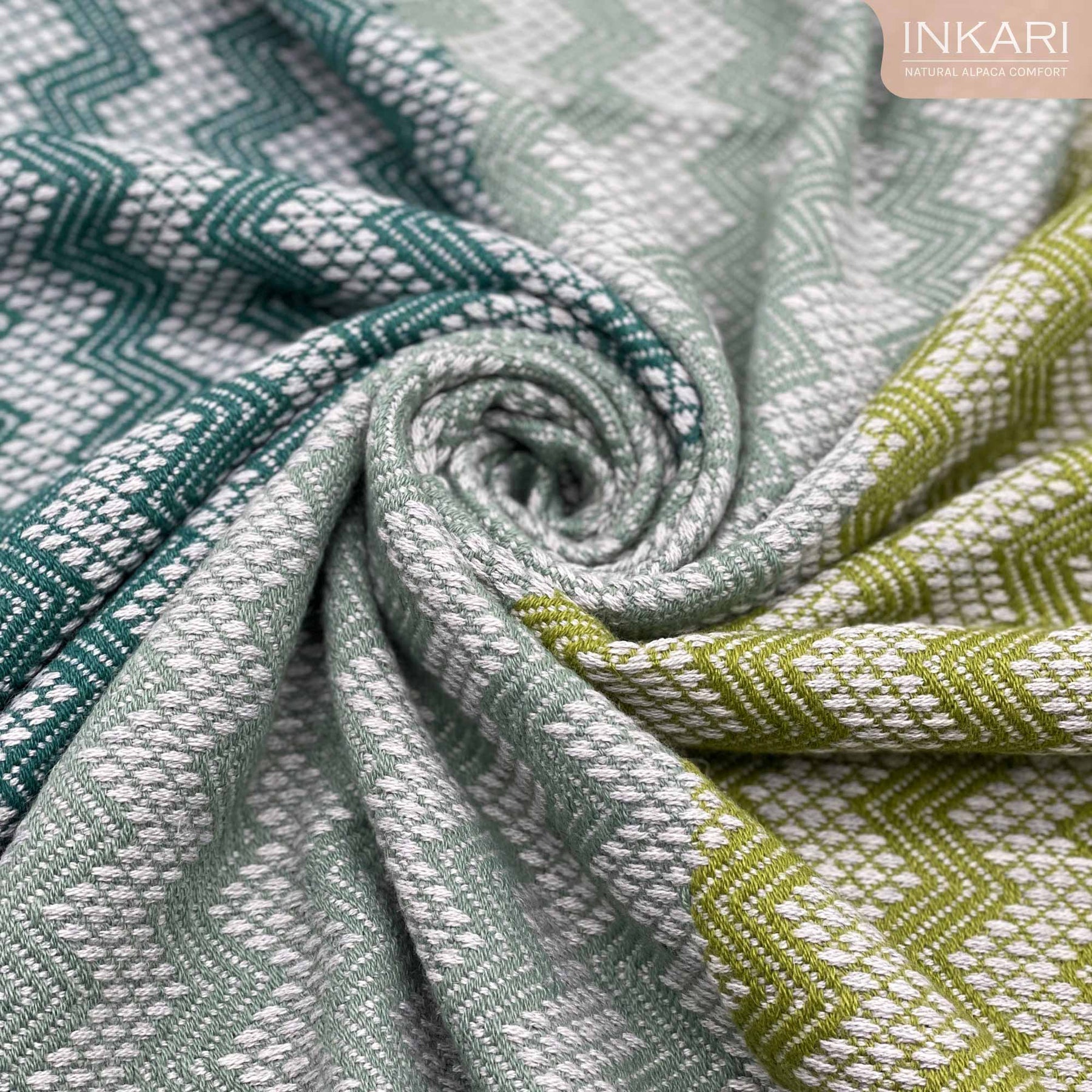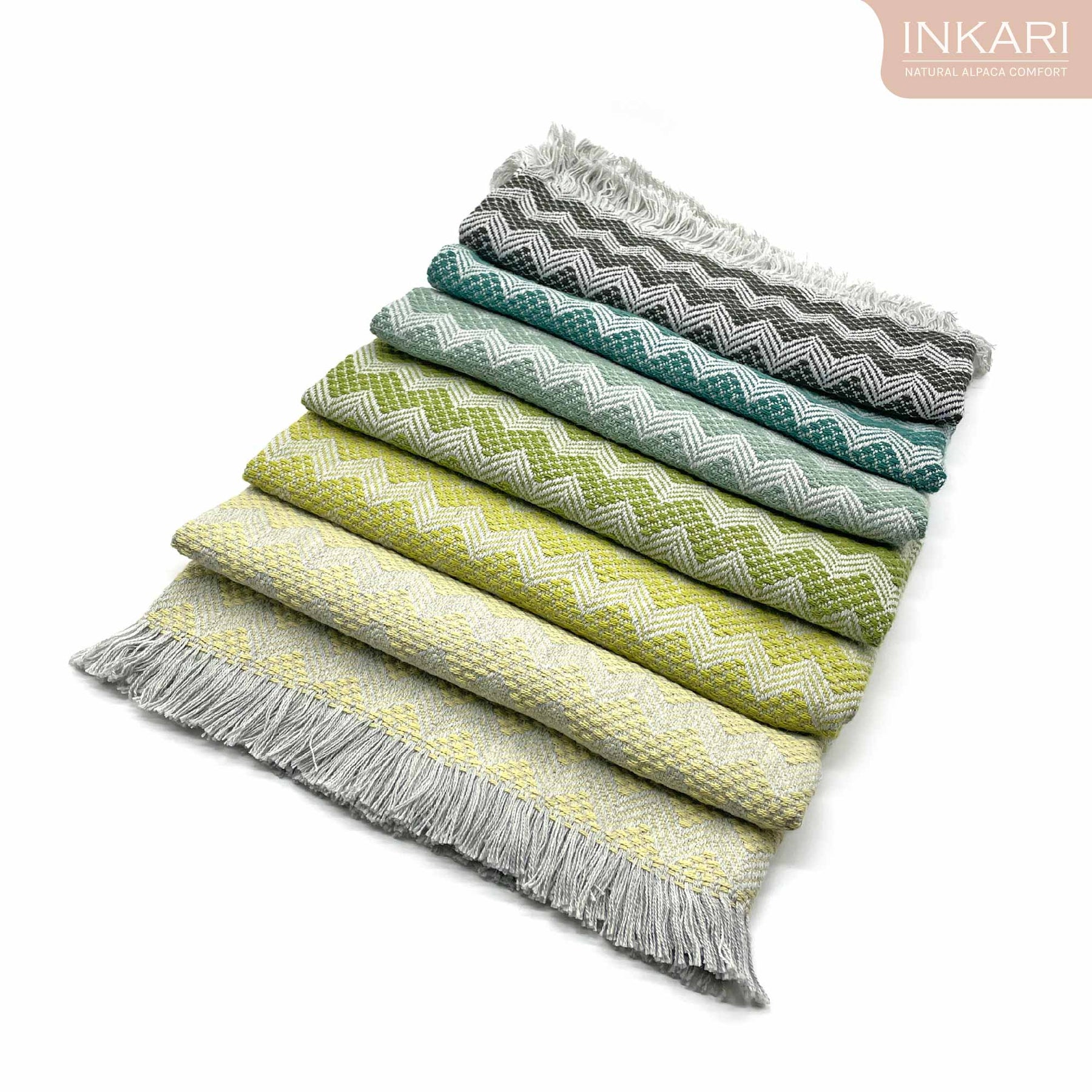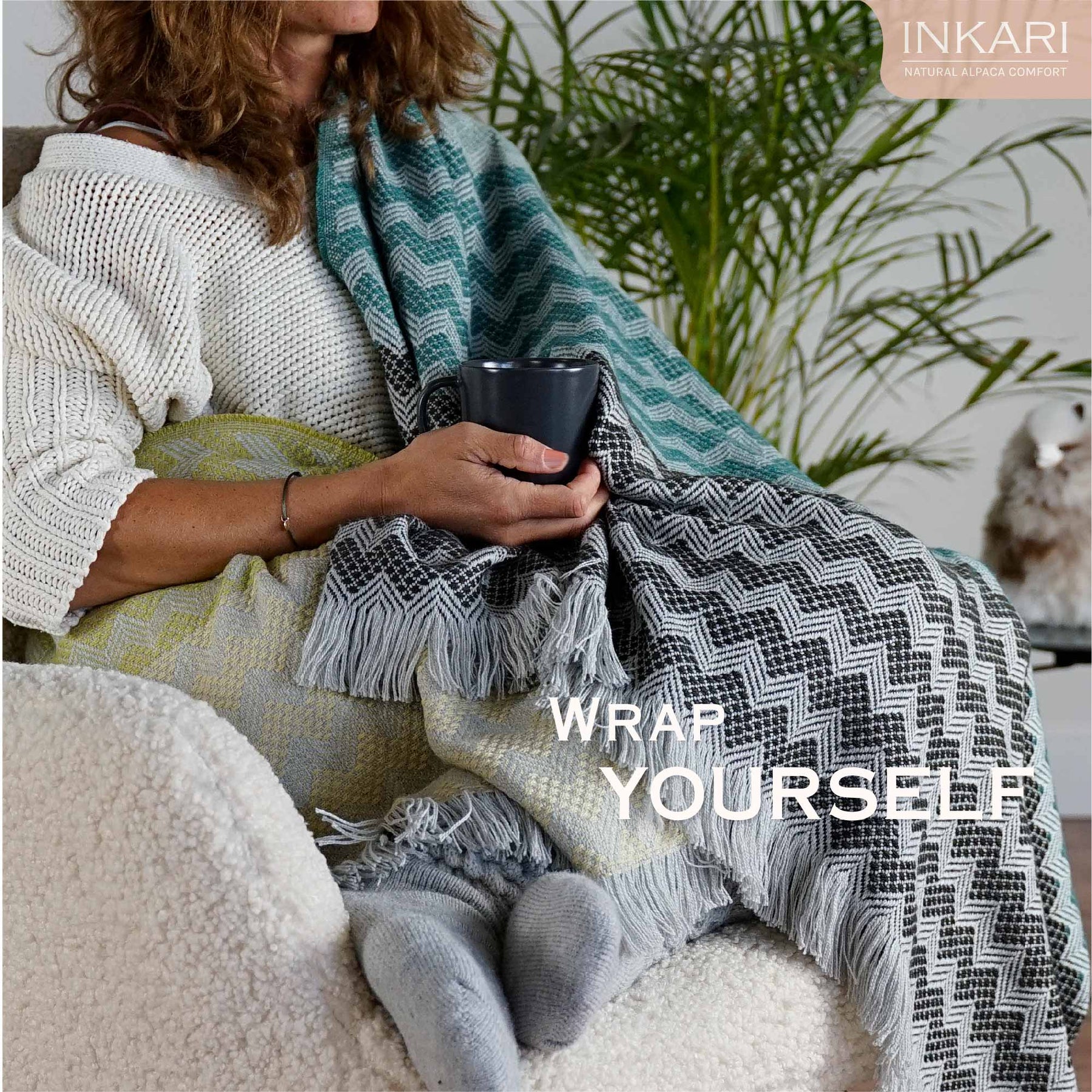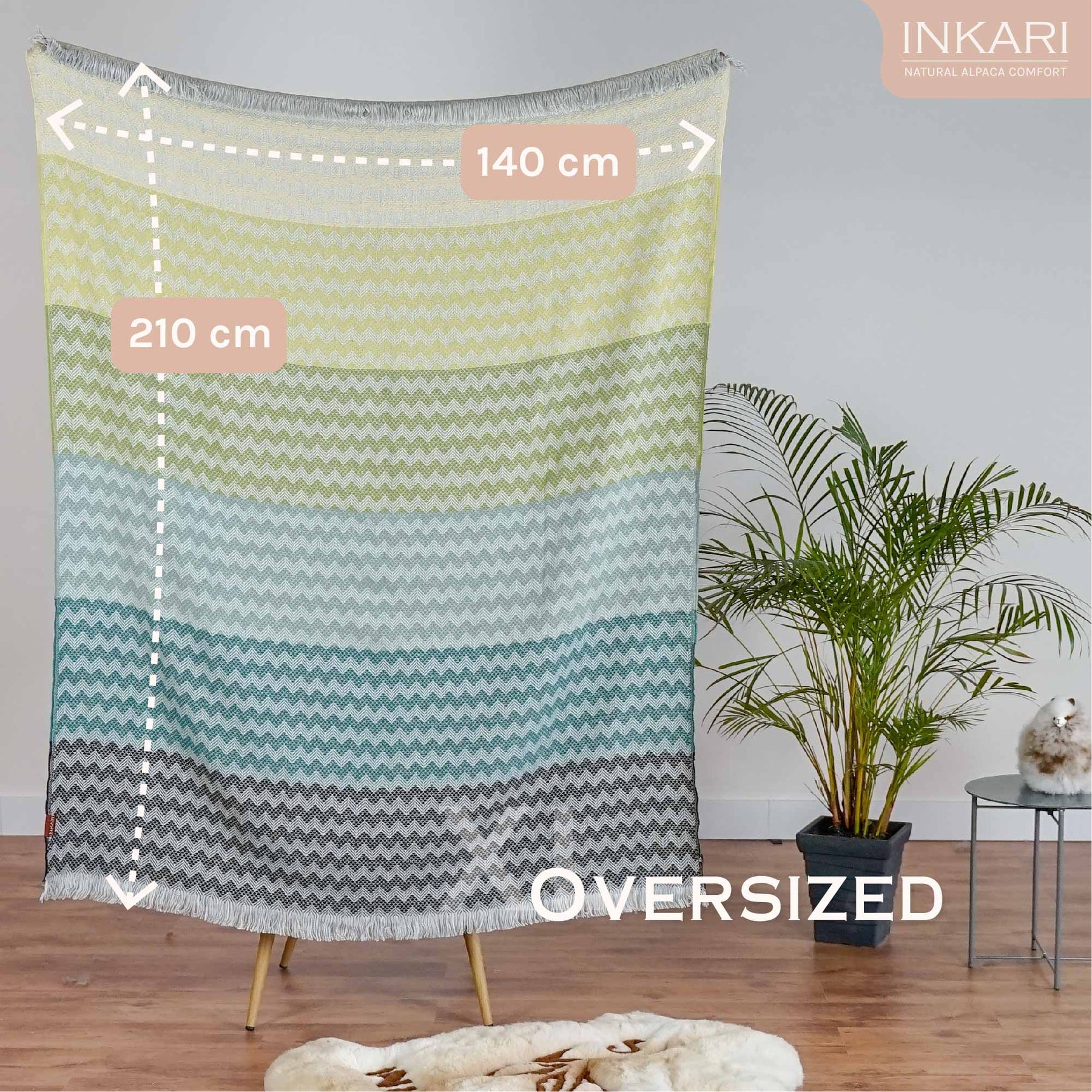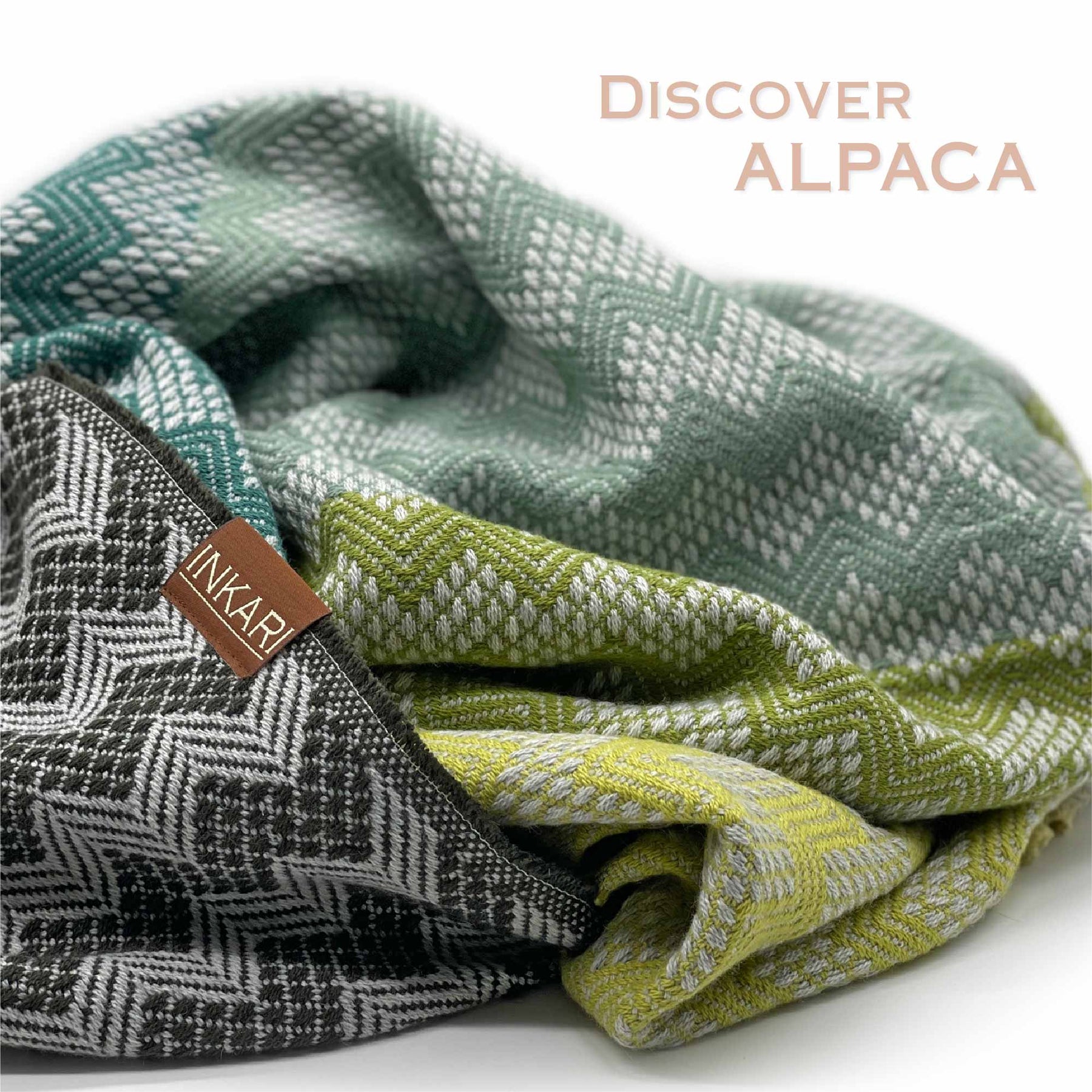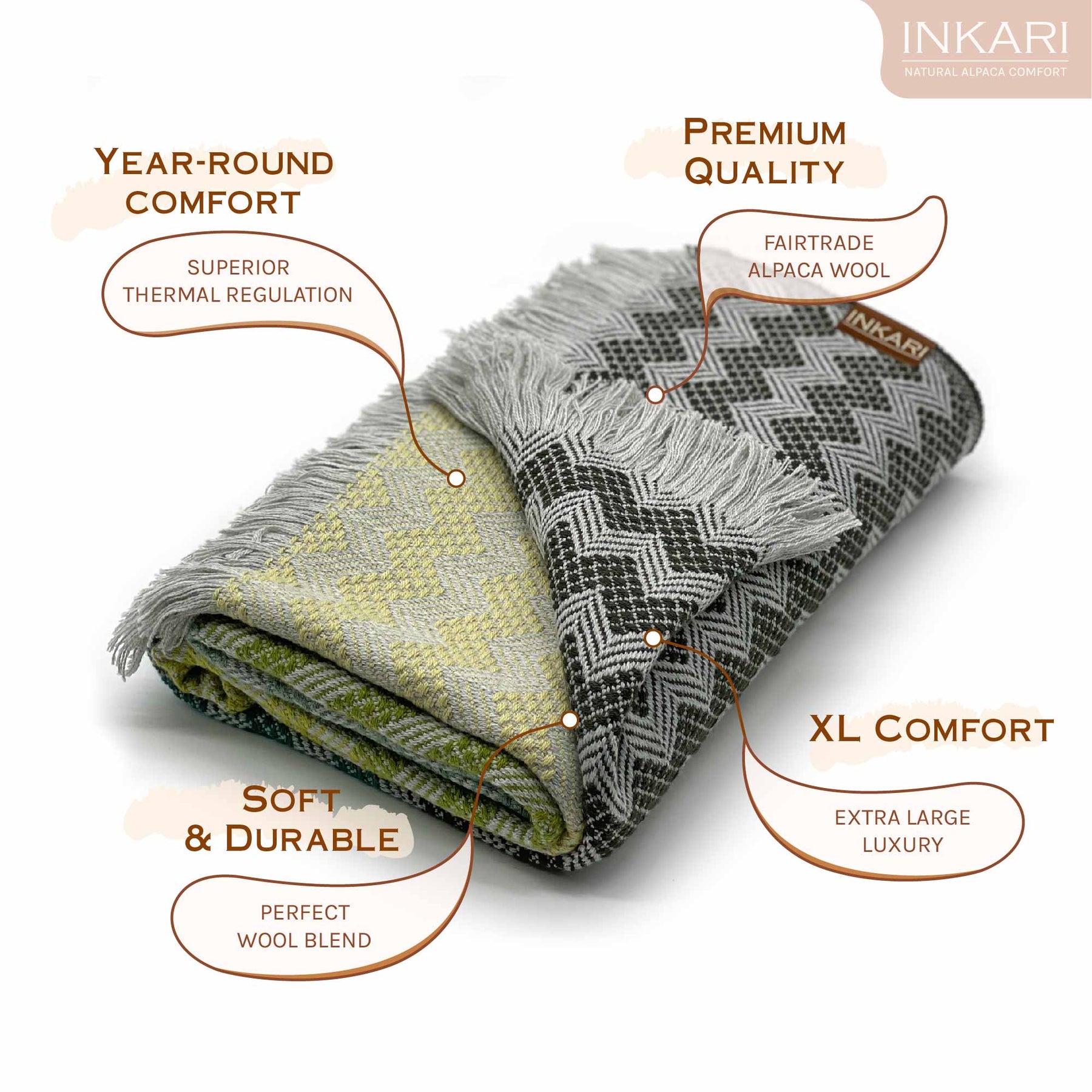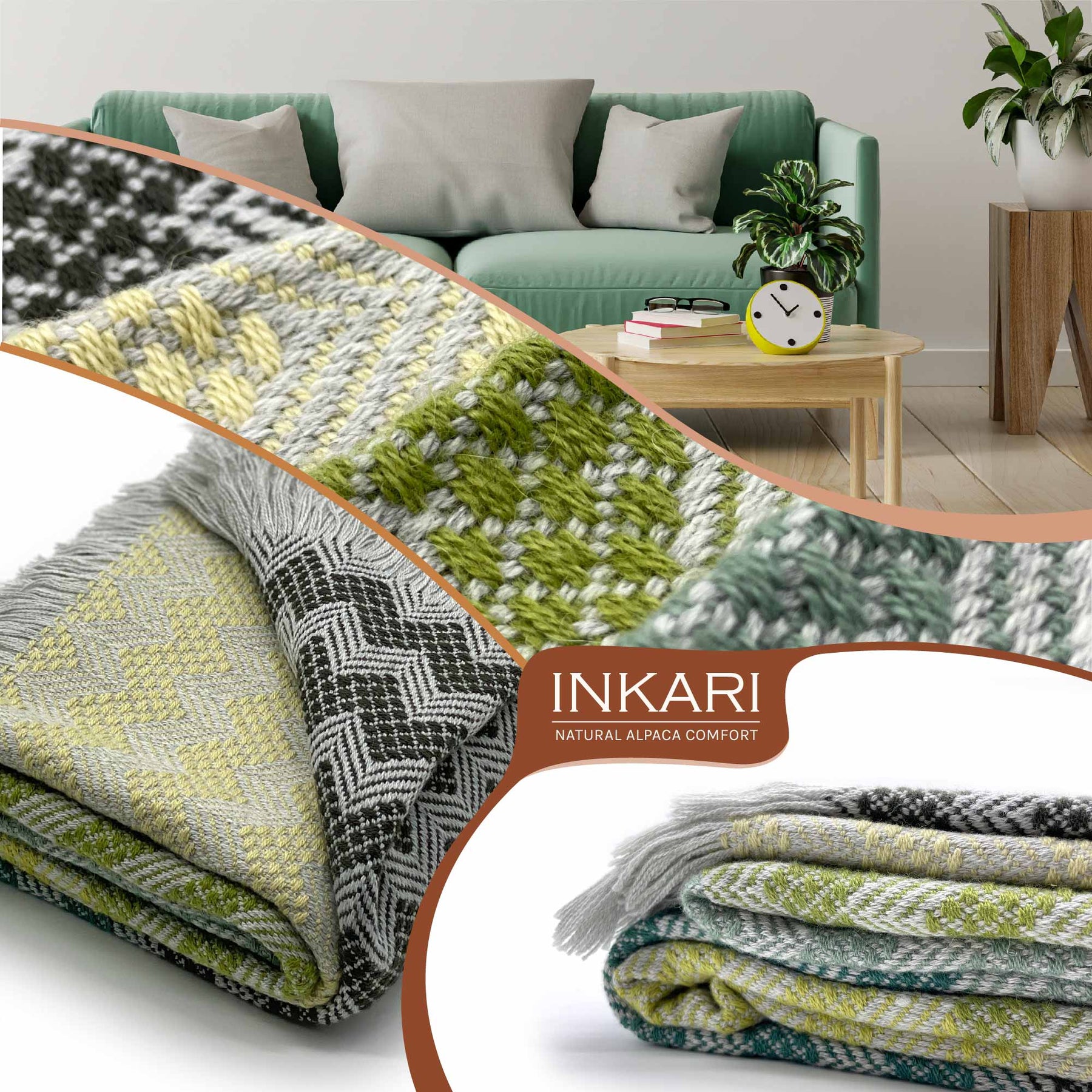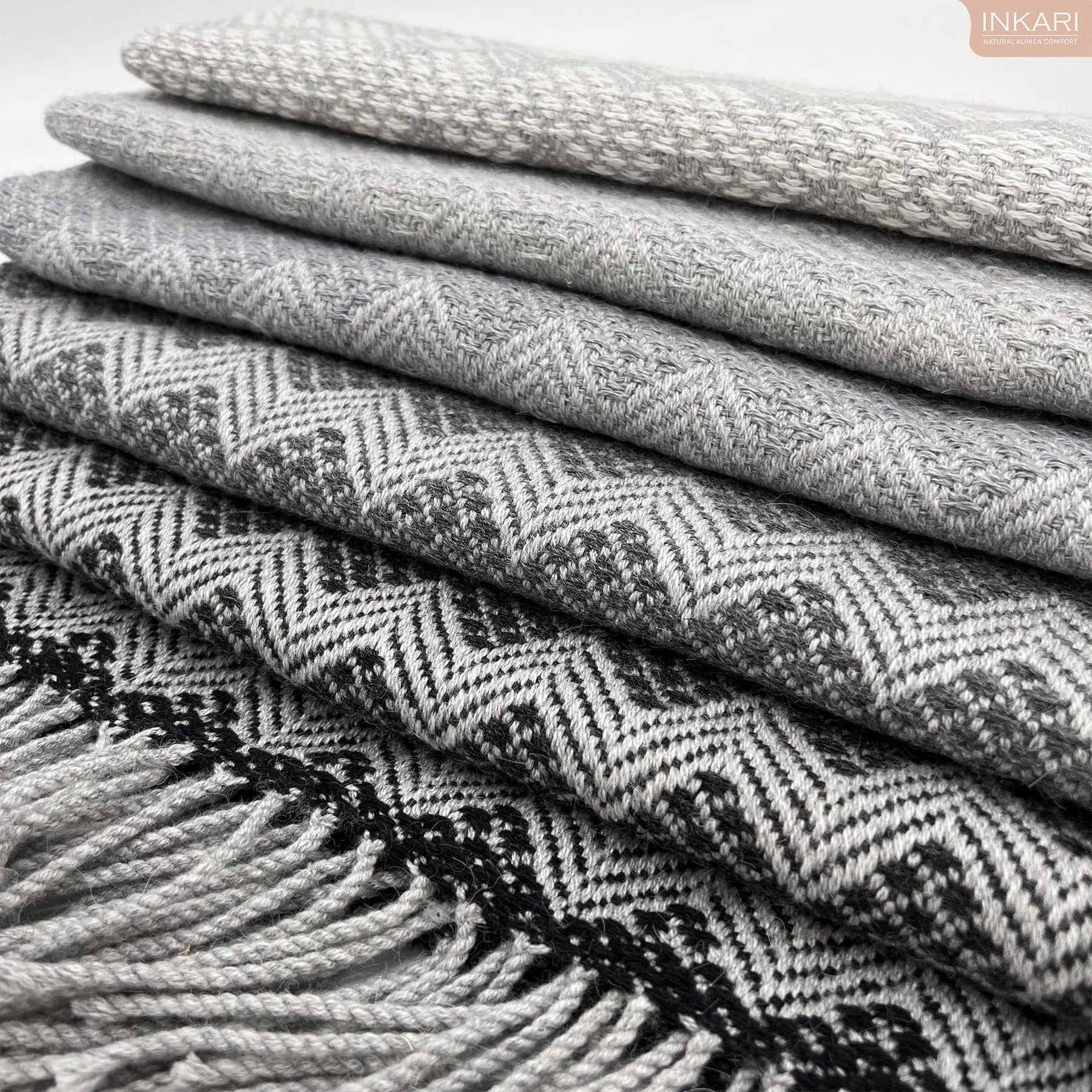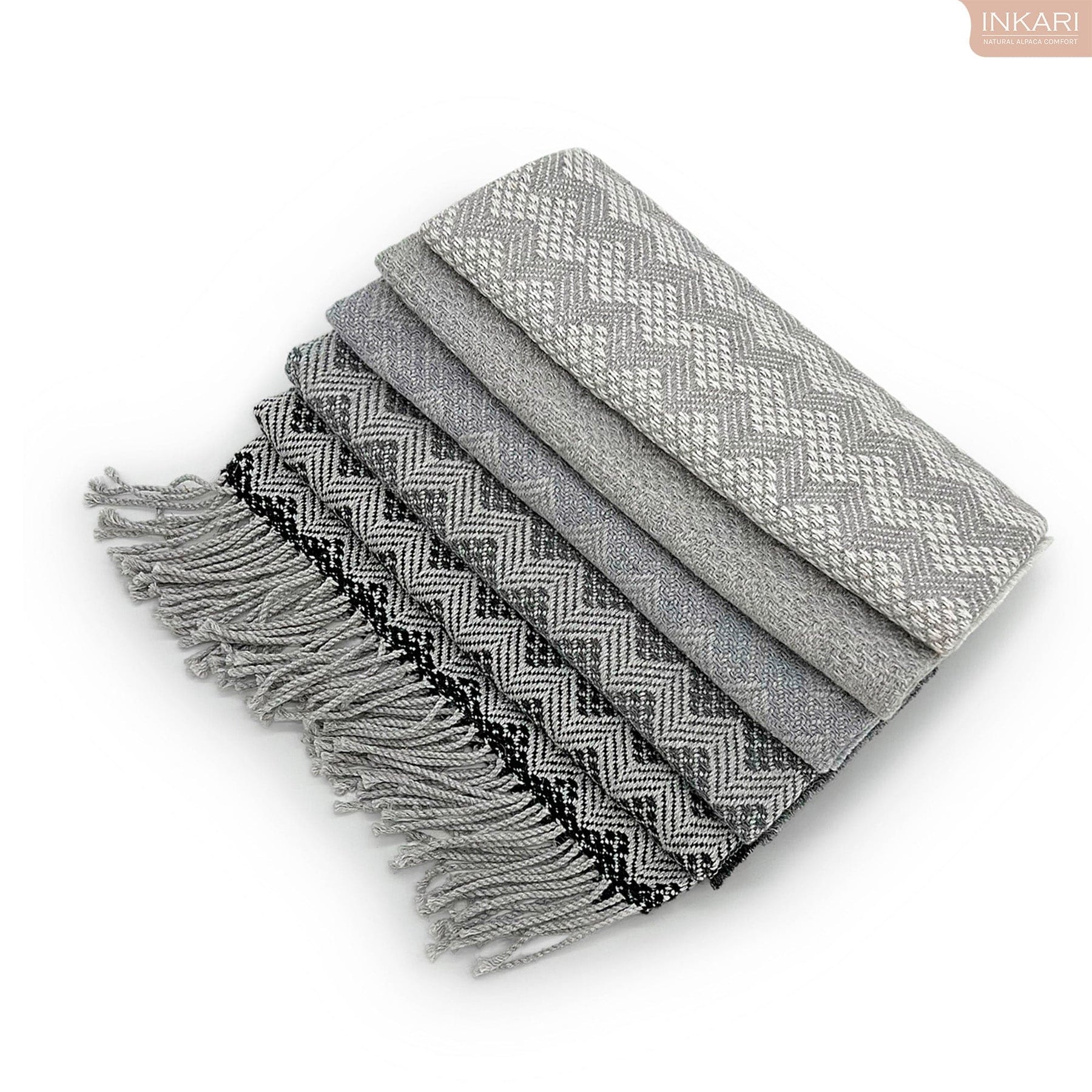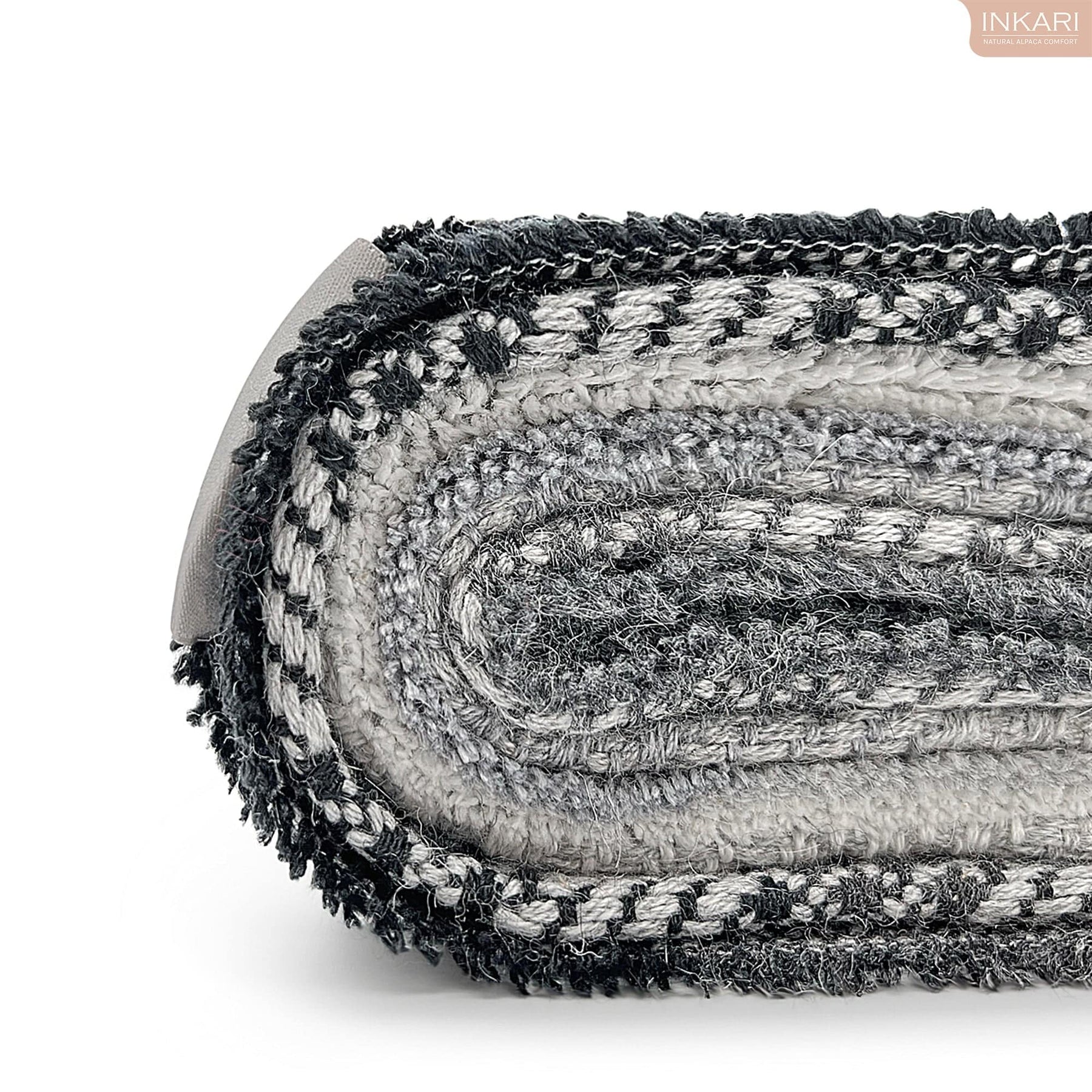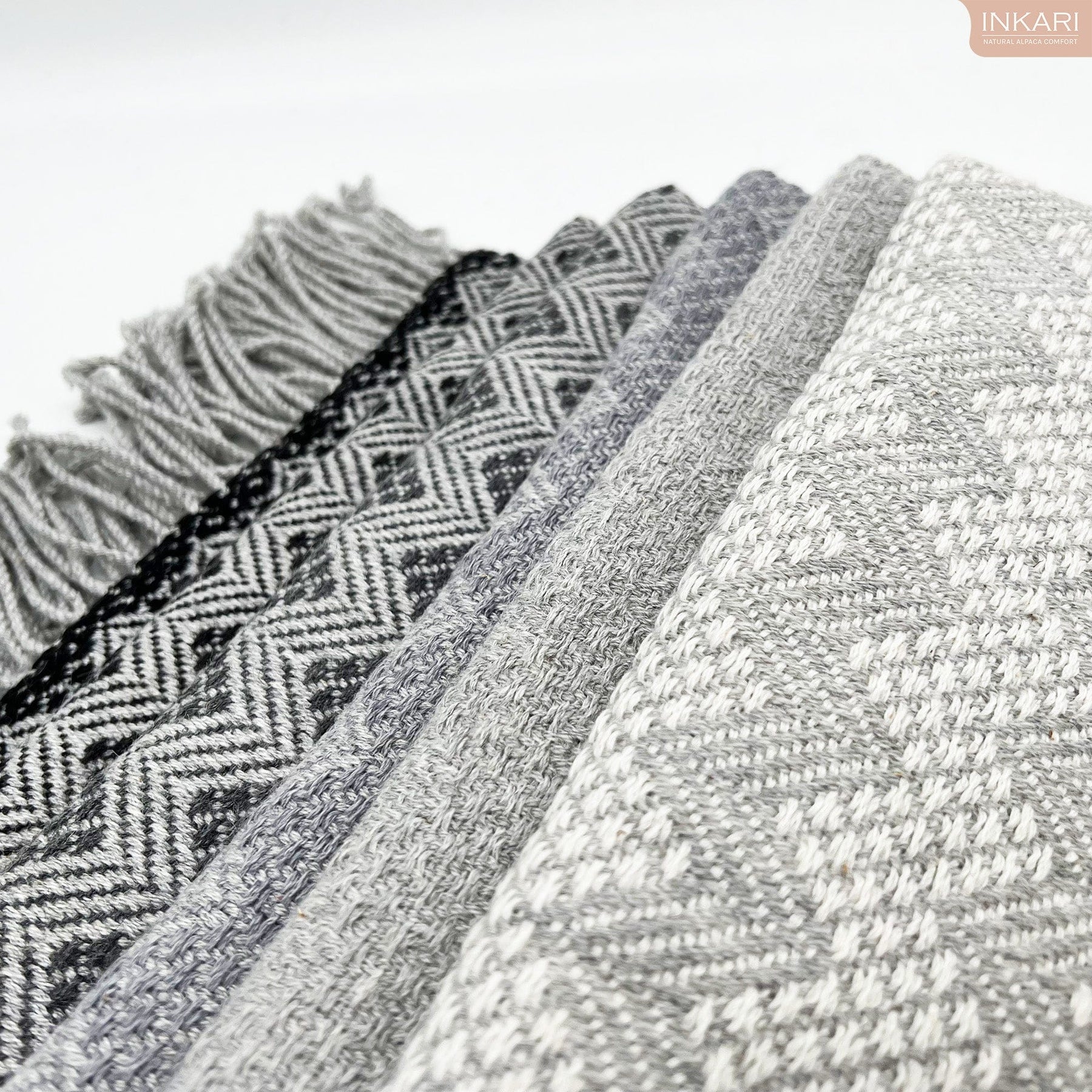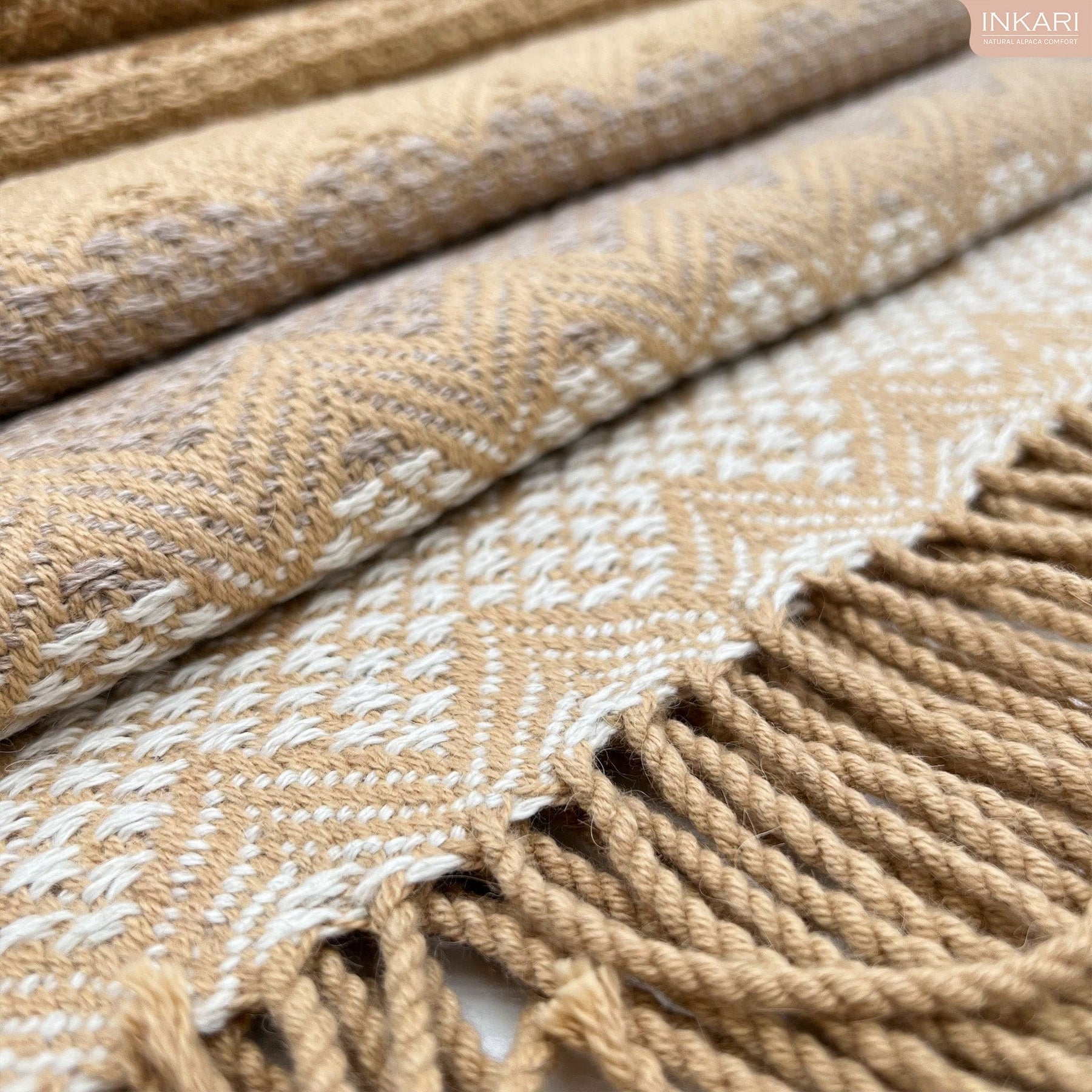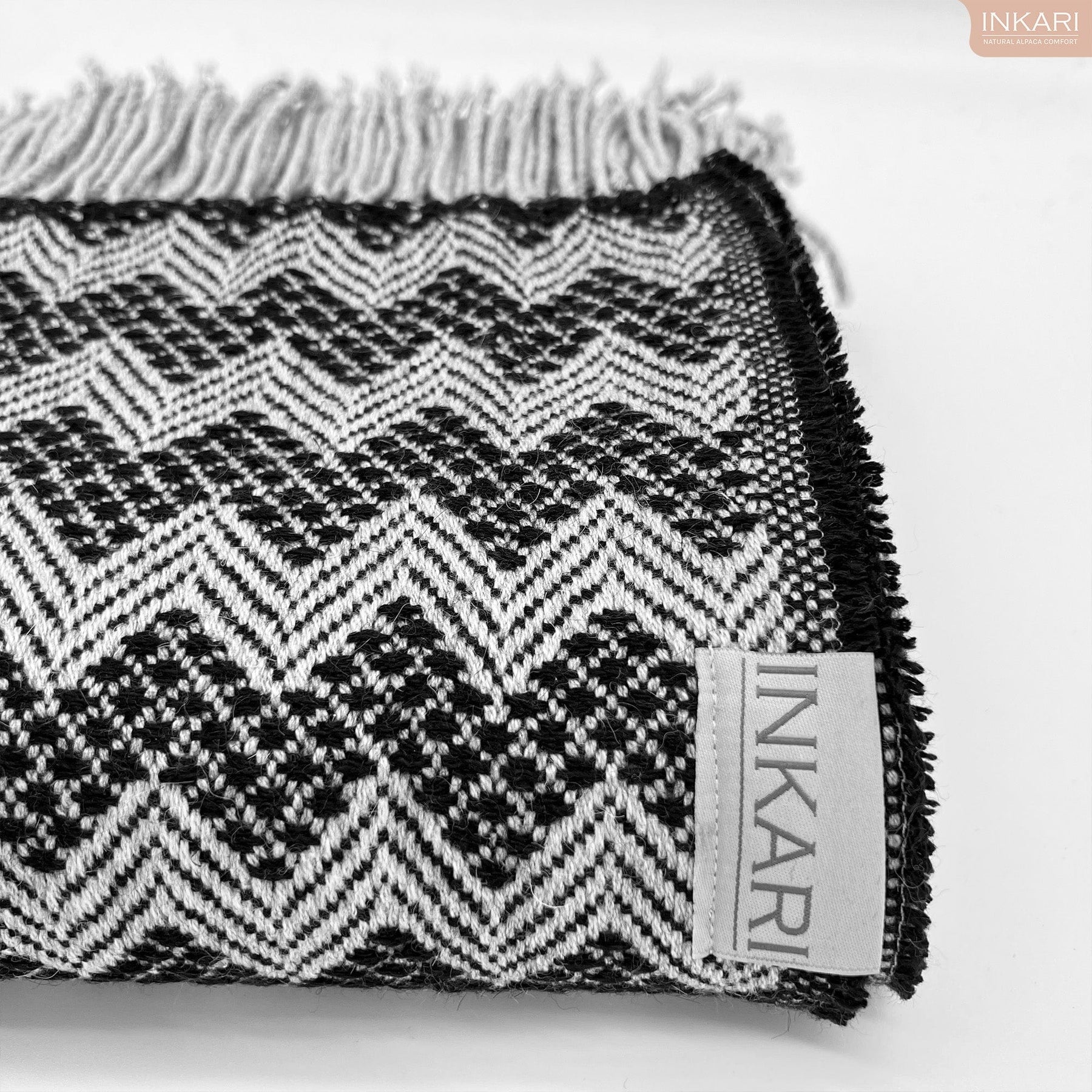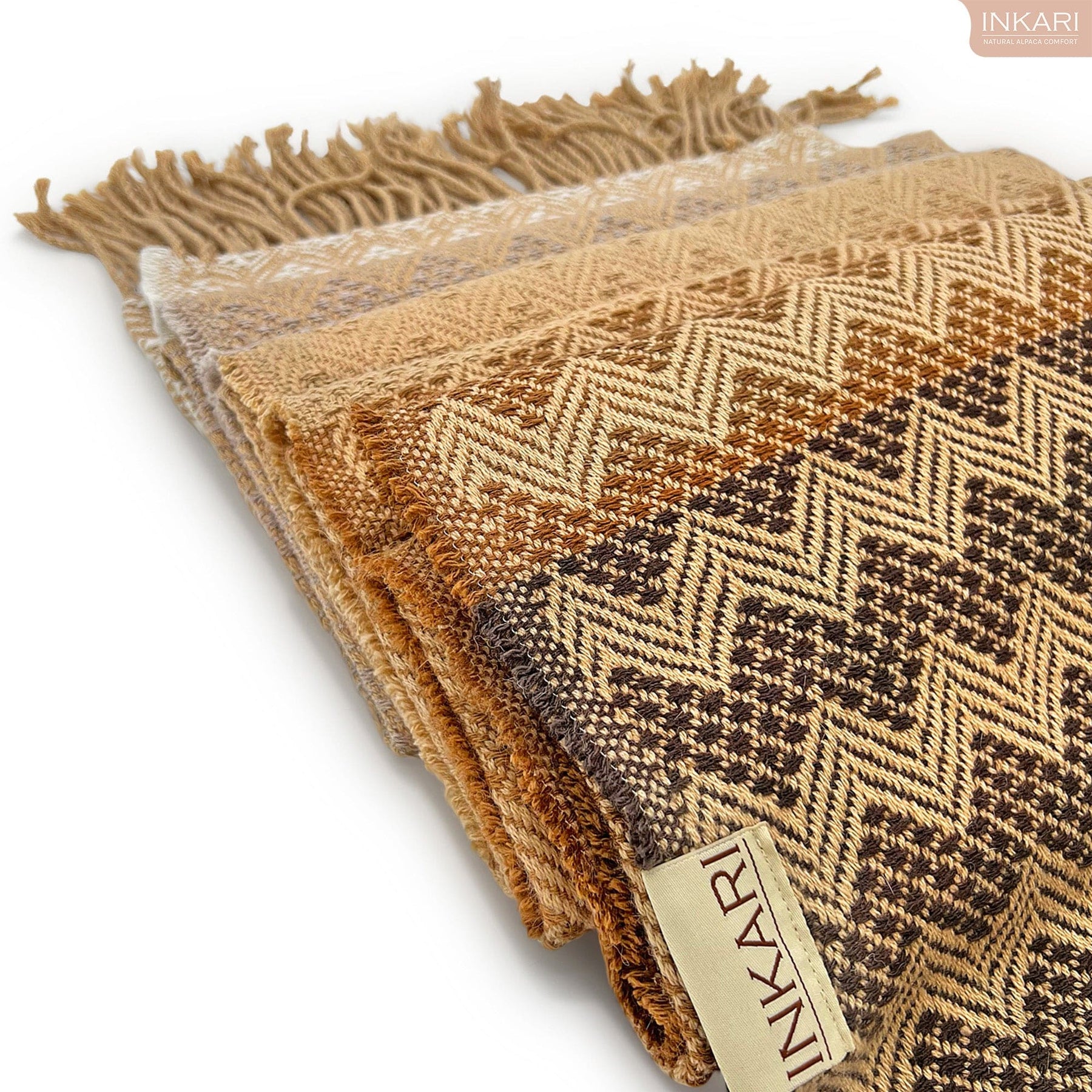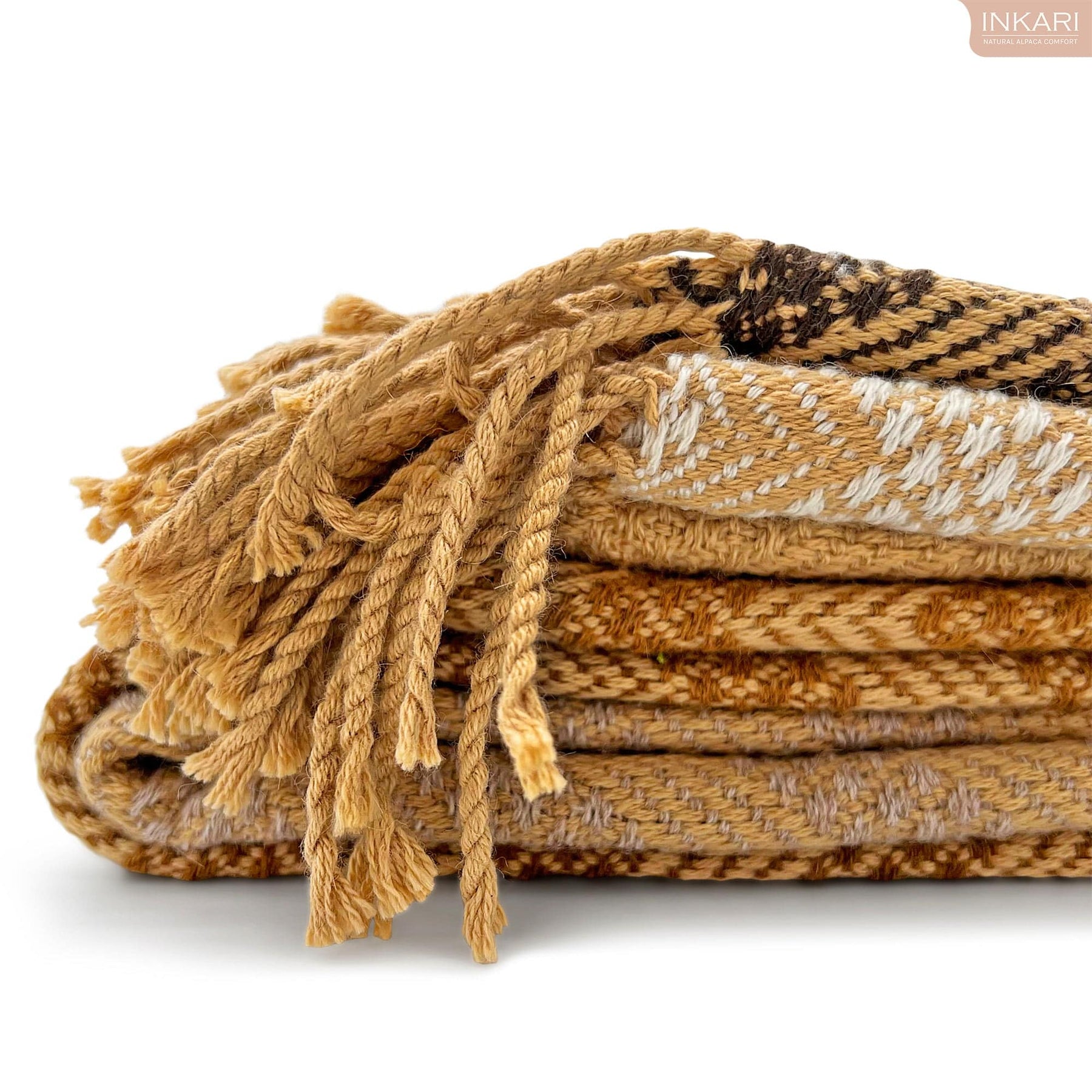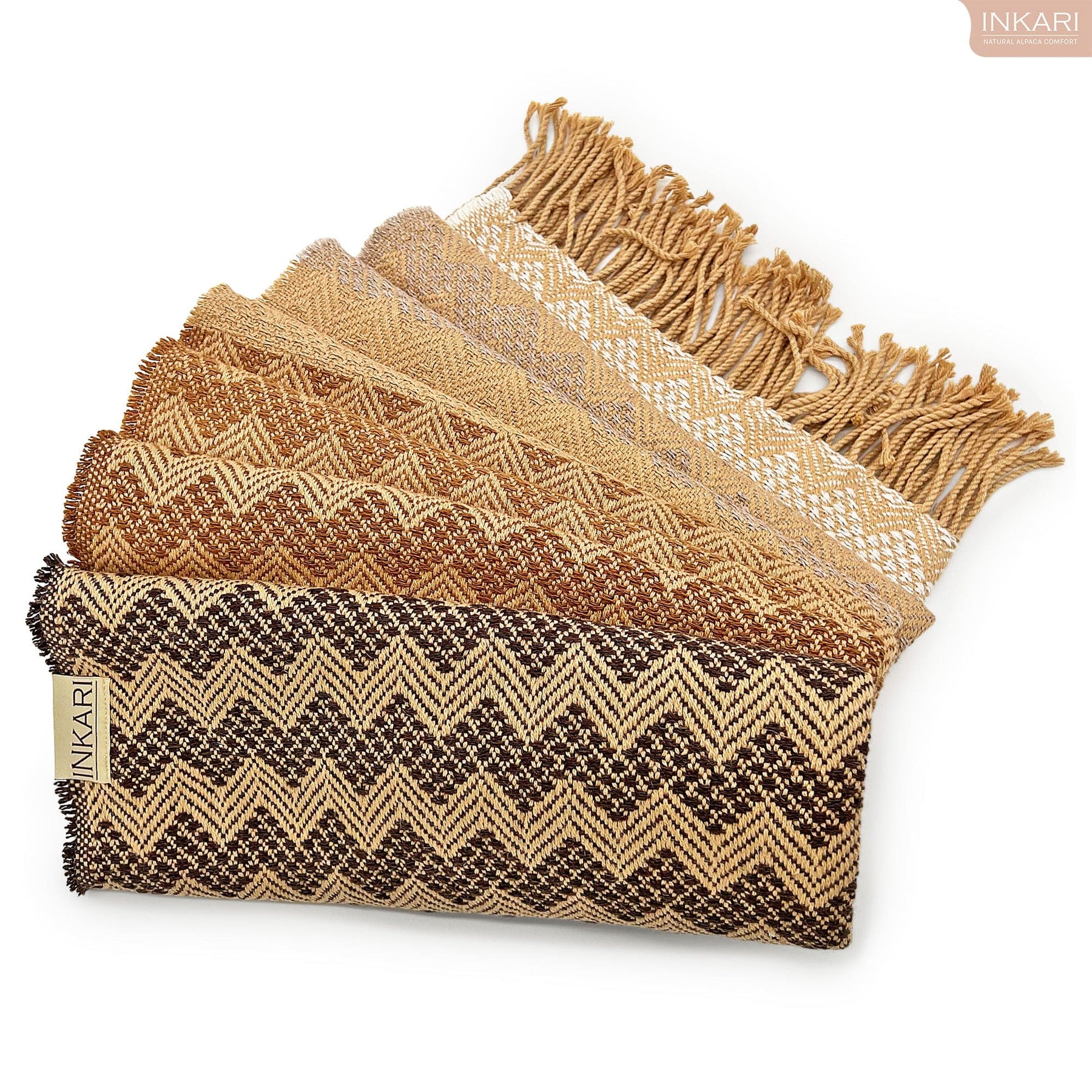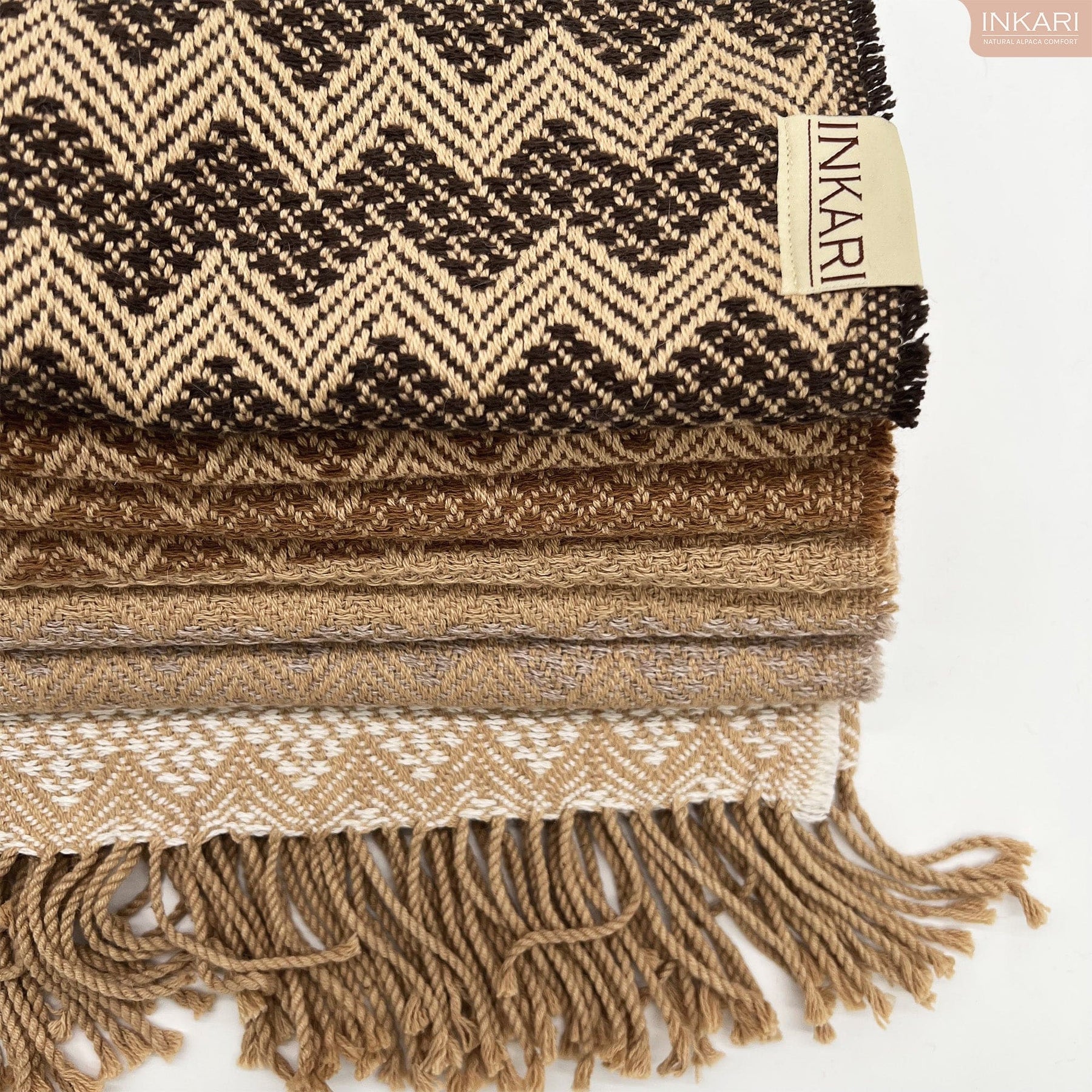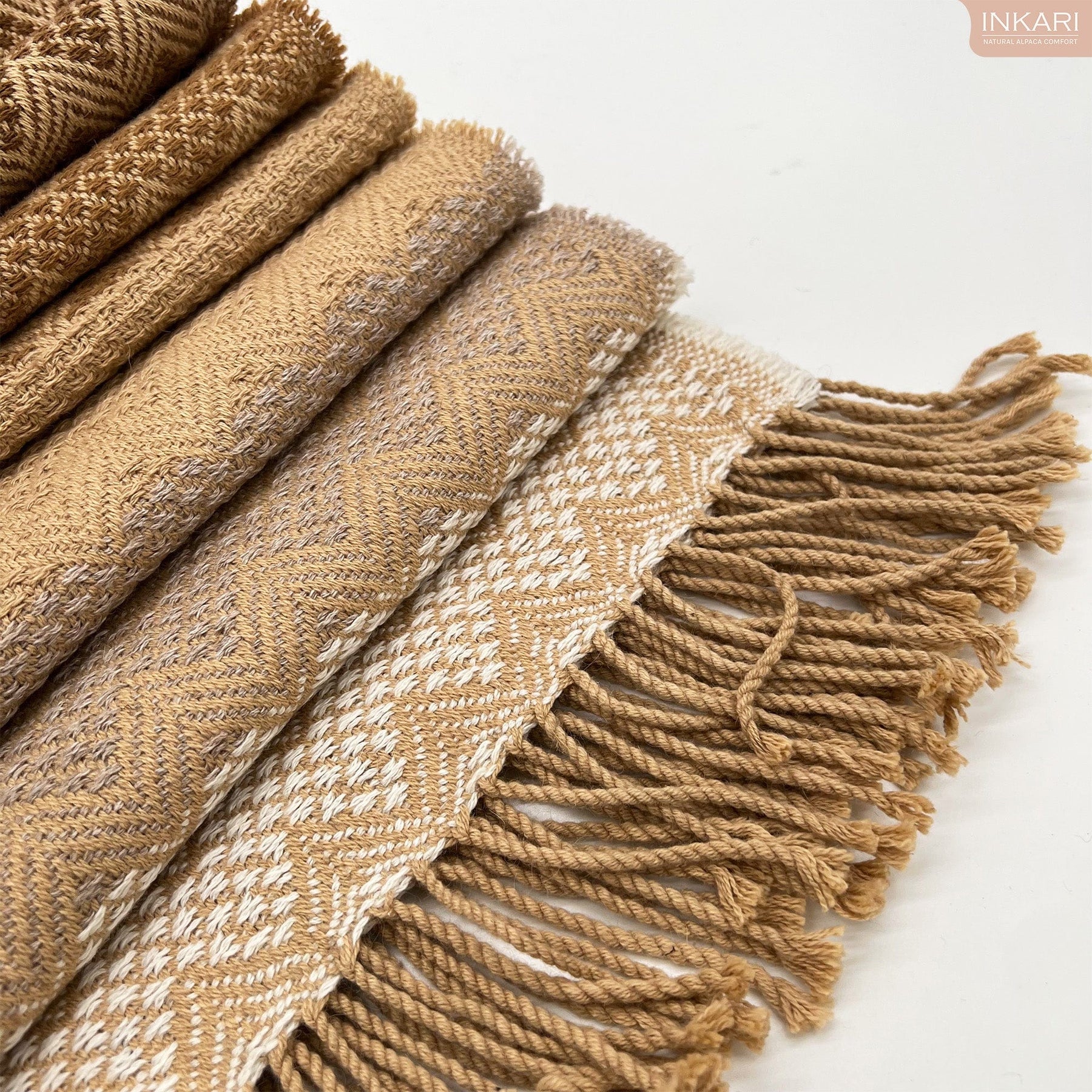 Alpaca Wool Throws - Rainbow

THE EVERYDAY ALPACA BLANKET
If you love the softness of alpacas, blankets, and extra-comfy throws, this is the perfect Throw/Blanket for you! 🦙
Handfinished in South America with premium alpaca wool, the Extra Large Alpaca Throws are luxuriously elegant and incredibly soft. The XL alpaca throws are unique in their large size: 210 cm by 140 cm wide.
Perfect for those who love that little extra added touch of warmth and XL comfort on:
- chilly summer evenings ☀️
- curling up at home with your favorite book 📖
- your couch watching a romantic movie🍿
Enjoy the delicate touch and soft feel of the XL Alpaca Throws in your home.
ALPACA WOOL BLANKET
This blend is the perfect balance between heat-regulating alpaca wool, natural durability from cotton and the softness of acrylic.
Choose your favorite XL Alpaca Throw that's as soft as cashmere and warmer than sheep's wool from one of our many Inkari designs. In addition to the Rainbow, we have many alternative motifs ranging from solid colors to Inca patterns.

ALPACA GIFTS

XL Alpaca Throws make for the perfect gift when you'd like to spoil someone with something that's incredibly soft, comfortable and cozy. Available in designs fit for unique homes and characters, an XL alpaca throw is a great introduction to a world filled with alpaca wool!

#Inkari gift tip 13: try and match the Home or Wear collection with one of our alpacas for the best alpaca experience you can gift!
THE INKARI DREAM
All original Inkari products are handmade or hand-finished by Peruvian artisanos. The highest quality alpaca fleece is bought from local Andean distributors for a fair price and processed in an authentic manner.
Choosing an Inkari product means you are supporting our dream for a local hub for Peruvian communities where families can live, engage, participate, receive education and improve their well-being.

🔘 210 cm by 140 cm wide

🔘 Thermoregulating & Breathable

🔘 60% Fairtrade Alpaca Wool | 30% Acrylic | 10% Merino Wool

🧼 Washing advice: gentle handwash only with a wool-specific detergent. If possible, only air out. No dryer or heat source recommended for drying; dry the wool lying flat or it will lose its shape!
Best blanket ever
The alpaca wool throw (henceforth revered to as 'The Blanket' with a capital 'T') has proved to be an outstanding purchase. In the few months of entering my ownership the blanket has provided an all-around very good utility both as fashionable overthrow as well as blanketing for the occasional midday rest and with its excellent feel the blanket has become ever more popular in the household.
11/10 very nice feel, extremely well made and extremely popular with the cat which often occupies the blanket.
This is great to hear, Lukas! Thank you for the great review! I'm really glad everyone loves The Blanket, including the cat!
Adorable and warm
Love the colors and it is so warm and stylish!
Hi Lauren! Thanks for your wonderfull review! I'm glad to hear that our Throw keeps you warm :)
If you want to stay informed about our new products you can sign up for our newsletter here at the bottom of the page: https://www.inkari-alpaca.nl/
Join the family!
1. Get your own official INKARI alpaca!
3. Get your VIP Welcome Gift!
4. Share with 1000s of other international alpaca fans and enjoy many VIP benefits!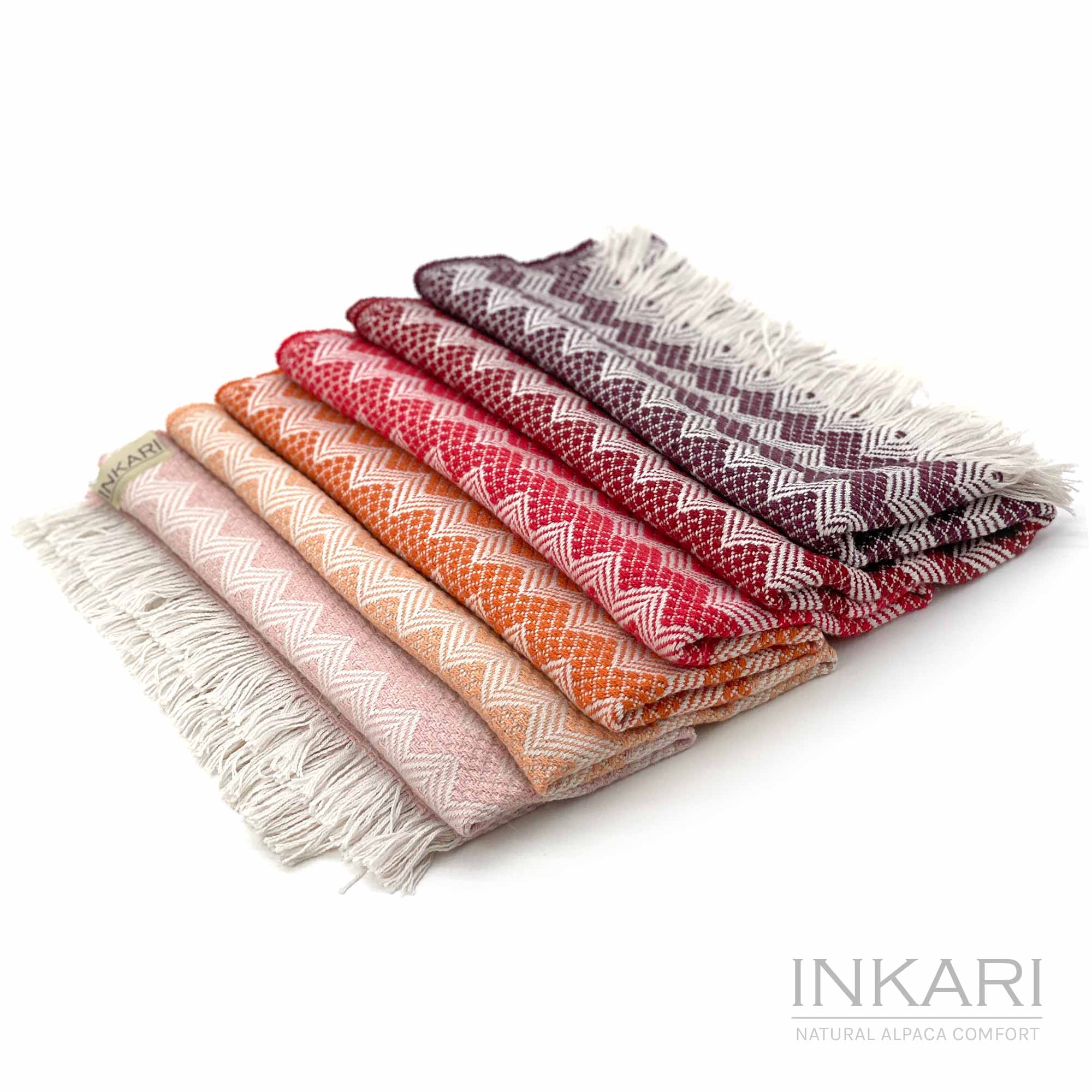 naturally proven
Alpaca Wool woven into perfection
High up in the Andes, alpacas have evolved to deal with extreme fluctuations in weather circumstances. Day in and day out alpaca fibers are tested.

Alpaca wool retains warmth when it's cold and releases heat when temperatures rise. Naturally designed for comfort, woven alpaca wool will keep you cozy.
Order
INKARI ships all over the world. Shipping costs are applied based on your specific shipping destination and are added during the checkout.
Depending on where you're from, shipping time may vary. On average, orders from the EU will take 5-7 business days to arrive.
Overseas deliveries can take anywhere from 7-16 days. Delivery details will be provided in your confirmation email, but estimates can be affected by local custom processing times.
Use the tracking portal provided in your shipping confirmation email or use 17track for the most up-to-date information on the location of your parcel.
Alpaca fans from within the EU are shown the price with their national VAT (taxes) included. Because INKARI sells internationally, different percentages are calculated for different customers.
During the initial loading of the site, your local VAT tarif is calculated. This can result in a small visual price change.
Materials
'Baby' Alpaca Wool refers to the high quality of the wool used and does not specifically refer to the age of the alpaca.
Baby Alpaca Wool is a guarantee for superb quality alpaca wool.
Scarves are 70cm by 210cm
Throws are XXL: 140cm by 210cm
Pashmina style products are 70cm by 210cm
VIP Members
It's super easy!
Send out a request to join the VIP Members FB Group.
Join 1000s of other alpaca fans and start sharing your own alpaca stories with them!
New to the group? A VIP Welcome Gift awaits... join and find out how you can get your own gift.
INKARI VIPs are the first to learn about new product launches, know the exact starting times of the original Limited Edition Sale, can win amazing alpaca prices through VIP Challenges and so much more.
Get your first alpaca and join the family today!