CHOOSE YOUR FAVORITE COLOR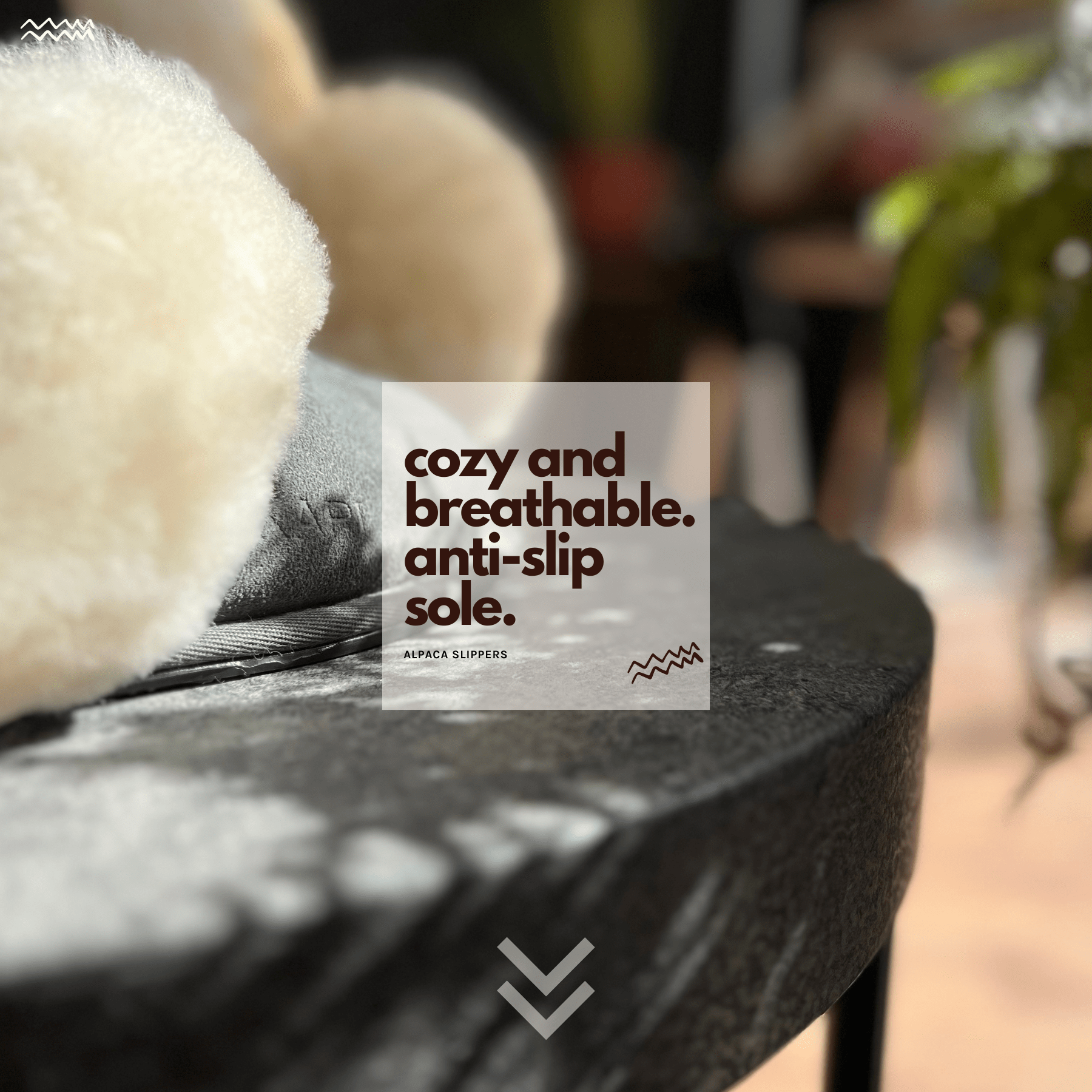 The Alpaca Slip-On
Cozy and breathable.
Unique to the Alpaca Slipper is the thickness of the alpaca wool used. Surround yourself with the softest alpaca fleece you'll ever feel. Hollow alpaca fibers make sure your feet stay comfortable and cozy, but never too warm.
Anti-slip sole.
Our cork-infused sole will keep you sturdy no matter where you use your slippers in-house.
Alpaca Wool Slippers
The Alpaca Wool Slippers are the most premium alpaca slippers from Inkari. This is partly because the alpaca slipper is the first real alpaca wool slipper in the world. The slippers are handmade, use the softest alpaca wool available, and are the best natural solution to cold feet. The Alpaca Wool Slippers and the Alpaca House Slippers are available for both women and men, just like our alpaca socks. And the best part? Just like all other products of Inkari, they capture the essence of alpacas: a perfect blend of something truly unique and comfort for those who value the finest natural quality in the world.
Inkari-alpaca.com explains everything for you.
Are Alpaca Wool Slippers sustainable?
Yes, the Alpaca Wool Slippers from Inkari are made with the finest Peruvian suede and carefully selected alpaca fleece. We even went so far with our Peruvian partnerships to include two different types of alpaca fur: the thickest and softest lining for the famous collar combined with a more rugged and tough part for the inner sole. This way your feet experience the perfect balance between softness and practicality. Walking will remain comfortable as long as you'll use the alpaca slippers. You could even try the famous Inca Trail on Alpaca Slippers!
What to pay attention to when buying Alpaca Wool Slippers?
It can be difficult to find the perfect solution for your cold feet and also purchase something completely natural that has got a positive impact on the world. We got you covered there, but what else is important when making a decision?
// Budget // Usage // Taste
You can solve your cold feet with our thick alpaca socks, but if you'd prefer the absolute best of the best (that no other brand currently has got) and that is a direct result from a partnership with Peruvian artisans, then the Alpaca Wool Slippers are for you. Men or women, color or age; cold feet are unbiased to how they get fixed. It only matters that they get warm again and do so with a positive impact.